Andressa seals Roma win as Juventus, Fiorentina record wins: Serie A Femminile Week 14 Round Up
AS Roma firmly in the driver's seat maintaining a five point gap with a 3-2 win over Parma with four matches to go as Fiorentina and Inter hope to pip Juventus to champions league football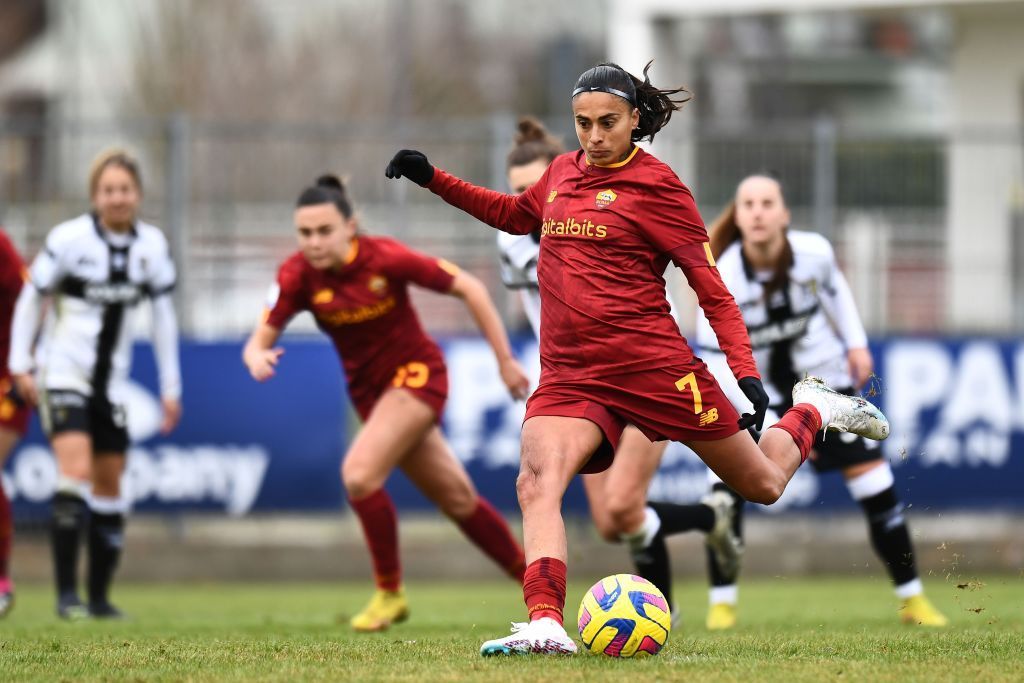 Goals from Emilie Haavi, Valentina Giacinti and Andressa were enough for AS Roma to shake off a stubborn Parma with a 3-2 win away on Sunday.
Parma forward Melania Martinovic opened the scoring in the fifth minute before Haavi replied with a strike for the visitors just three minutes later to make it 1-1.
Giacinti gave the visitors the lead with a strike on 19 minutes after converting a Benedetta Gliona pass before Parma midfielder Bianca Bardin levelled the scores with a strike two minutes from half-time off a Micheala Cambiaghi assist and the teams went for the break.
Last week's heroine Andressa sealed the win for Roma with a 76th minute penalty after Parma defender Nora Heroum had fouled Giacinti in the box.
Giacinti's goal took her season's tally to seven and she is club top scorer in the league whilst Haavi and Andressa's goals took their tallies to five each for the season.
Roma sit at the apex of the Serie A log on 36 points from 12 wins in 14 contests whilst Parma are at the bottom of the log on six points from one win and three draws in the same number of ties.
Meanwhile, reigning champions Juventus bounced back from a disappointing one-all draw against Sassuolo last weekend to record a crucial 2-1 win away to Pomigliano on Sunday.
Pomigliano opened the scoring through midfielder Zhanna Ferrario in the 26th minute before Juventus forward Sofia Cantore replied for the visitors with a 29th minute strike to make it 1-1.
Former Bayern Munich forward Lineth Beerensteyn sealed maximum points for Juventus with a 59th minute strike after converting a Julia Grosso pass.
Beerensteyn's goal took her season's tally to seven and is club second top scorer in the league and Grosso's assist was her sixth in 12 appearances for Juventus and saw her reclaim top spot on the Serie A assist charts.
Juventus are second on the standings, five points away from league leaders Roma, with 31 points from nine wins and four draws in 14 outings whilst Pomigliano are sixth on 13 points from four wins and a draw in the same number of encounters.
A solitary Laura Agard strike was enough for Fiorentina to collect a full set of points and move to third place on Sunday.
The French centre back's first half strike condemned troubled Sassuolo to their fifth defeat of the season.
Fiorentina have amassed 28 points from nine wins and a draw in 14 encounters whilst Sassuolo are seventh on the standings on 11 points from two wins and five draws in the same number of contests.
Rita Guarino met another setback in their quest for champions league football when they drew one-all with Serie A newcomers Como at home on Sunday.
Como opened the scoring through 18-year-old midfielder Matilde Pavan on 21 minutes with an assist from forward Vlada Kubassova before Inter levelled the scores through forward Elisa Polli just two minutes later off a Tabitha Chawinga assist.
Polli's goal was her ninth in 13 appearances for Inter and the 22-year-old is now second top scorer in the current Serie A campaign below teammate Tabitha Chawinga who leads the pack with 10 goals.
Chawinga's assist was her fifth in 11 appearances for Inter and is now joint-second top assist raker in the current Serie A campaign alongside teammate Ghoutia Karchouni.
Inter slipped from third place to fourth on the standings following the draw having collected 26 points from seven wins and five draws in 14 encounters whilst Como rose from ninth to eighth having  registered 11 points from three wins and a draw in the same number of outings.
AC Milan made it eight wins in 14 outings with a crucial 3-0 win away to beleaguered Sampdoria on Saturday.
Polish defender Małgorzata Mesjasz opened the scoring for Maurizio Ganz's side just five minutes into the first half with an assist from midfielder Greta Adami before former Real Madrid striker Kosovare Asllani doubled the visitors lead from the penalty spot on 34 minutes after defender Vanessa Panzeri had brought down utility player Valentina Bergamaschi in the box.
Bergamaschi sealed the win for the Rossonere with a strike just two minutes from time as Milan kept pressure on the teams above.
Milan are fifth on the standings on 25 points from eight wins and a draw in 14 encounters whilst Sampdoria slipped from eighth to ninth having collected a paltry 10 points from three wins and a draw in the same number of ties.
RESULTS: Saturday 21 January, 2023 (Sampdoria 0 – 3 AC Milan)
RESULTS: Saturday 21 January, 2023 (US Sassuolo 0 – 1 Fiorentina)
RESULTS: Sunday 22 January, 2023 (A.S.D Pomigliano 1 – 2 Juventus)
RESULTS: Sunday 22 January, 2023 (Parma Calcio 2 – 3 AS Roma)
RESULTS: Sunday 22 January, 2023 (Internazionale 1 – 1 FC Como)