Barcelona demolish Atlético as Huelva move out of relegation: Liga F Week 25 Round Up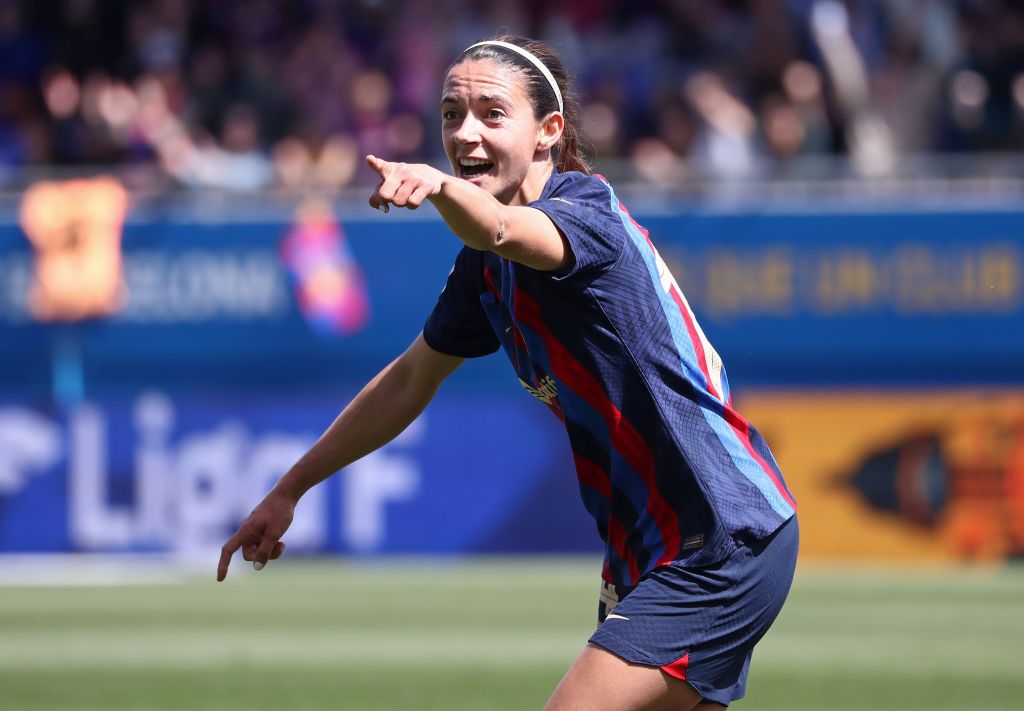 Two goals in either half saw Barcelona demolish visiting Atlético Madrid 4-0 at the Estadi Johan Cruyff on Saturday afternoon.
The hosts took a 28th minute lead through midfield workhorse Aitana Bonmatí off a pass from forward Caroline Graham Hansen.
The visitors made a half-time substitution, bringing on forward Andrea Stašková for fellow forward Lucía Moral Ruiz in a bid to mount a second half comeback but found themselves two goals down when young forward Vicky López doubled the hosts' advantage just after the restart.
Graham Hansen had her second goal contribution in the 57th minute when she converted a fine lay-up from Bonmatí to make it 3-0 to Barcelona. With just a minute to full time left Bonmatí completed her brace after she finished a fine run by midfielder Bruna Vilamala who whipped in a cross from the right and the visitors' defence failed to clear their lines.
The win put Barcelona in a firm position to defend their title. The hosts would have been crowned champions had Real Madrid not won their fixture against Real Betis on Sunday.
The visitors are fourth, trailing third-placed Levante by 10 points with their top three hopes looking impossible with each passing day.
Watch Barcelona vs Atlético Madrid highlights below:
Meanwhile, third-placed Levante were fired up as they thrashed visiting Villarreal 3-1 at the Ciudad Deportiva de Buñol - Campo 1 on Saturday.
The hosts broke the deadlock through midfielder Paula Fernández in the 36th minute when she converted a pass from defender Paula Tomás.
The visitors levelled the scores five minutes into the second half through dependable skipper and forward Sheila Guijarro after she was set up by midfielder Cienfu but found themselves behind again three minutes later when forward Alba Redondo scored her 23rd goal of the season after combining well with fellow forward Mayra Ramírez.
Ramírez made it 3-1 to the hosts in the 58th minute to kill off any hopes of a comeback in the visitors as they fight for survival.
The win placed Levante in a good position to finish in the top three as they are 10 points ahead of fourth-placed Atlético Madrid with five games left whilst Villarreal are only two points from the relegation spots.
Watch Levante UD vs Villarreal highlights below:
Second-placed Real Madrid made sure Barcelona would wait another week to be crowned Liga F champions after coming back from a goal down to win 3-1 against hosts Real Betis at the Ciudad Deportiva Luis De Sol on Sunday afternoon.
The hosts opened the scoring in the 61st minute through former Liverpool forward Rinsola Babajide off a pass from substitute defender Lucía León to send a strong survival belief among the Betis family.
The lead did not last long as Real's player of the moment midfielder Caroline Weir levelled the scores three minutes later.
The hosts were reduced to 10 players after defender Violeta García Quiles received her second yellow card in the 75th minute.
The visitors capitalised on their numerical advantage and broke the hosts' resilience in the 83rd minute through substitute Caroline Møller off a pass from forward Linda Caicedo.
Defender Olga Carmona then made sure from the penalty spot, giving her side a comfortable two goal advantage with a minute left to play to kill off the hosts' challenge.
The win maintained their three point lead on Levante whilst Betis are now two points above relegation.
Watch Real Betis vs Real Madrid highlights below:
Red-hot UDG Tenerife continued with their fine form after seeing off hosts Levante Las Planas 3-2 at the Camp Municipal Les Planes on Saturday evening.
Nigerian forward Gift Monday opened the scoring 21 minutes into play after being set up by midfielder Paola Hernández.
The hosts levelled the scores after 32 minutes when defender Patri Gavira beat her own keeper to make it 1-1.
Monday was back again to haunt the hosts in the 62 minute to complete her brace after she was set up by Koko Ange to give her side a 2-1 lead.
With just eight minutes left on the clock Las Planas levelled the scores again through dependable midfielder Irina Uribe who has been their leading goal scorer during this campaign.
The visitors got a lifeline when midfielder Elena Julve Pérez conceded a penalty which was converted by forward Jassina Blom to make it 3-2 to the visitors in the second minute of added time.
The win moved Tenerife to sixth on 36 points whilst Las Planas are two points above the relegation zone.
Real Sociedad's struggles continued after they played to a one-all draw with lowly Alhama CF ElPozo at the Campo de Fútbol José María Soriano Muñoz on Saturday afternoon.
The hosts took the lead five minutes before the half-time break through forward Marina Martí Serna who was set up by experienced forward Jade Boho Sayo.
The hosts made a half-time substitution, bringing on forward Nerea Vicente Fernández for midfielder Aldrith Quintero.
The visitors, however, went on to level the scores through their best player this season Nerea Eizagirre in the 76th minute off a pass from fellow forward Amauir Sarriegi.
Alhama had to finish the match with 10 players after forward Bihi Sayo received her second yellow card in the 84th minute.
The draw moved Alhama to 18 points, two behind four teams above them in their fight for survival whilst Sociedad continued with their struggles and are now on 32 points and lie ninth on the log standings.
Athletic Club breathed a huge sigh of relief after their late goal gave them a 1-0 victory over visiting Alavés at the Lezama Facilities on Saturday afternoon.
The first half did not offer much as both teams employed a cautious approach in a bid to avoid being caught out unaware and they went to the half-time break deadlocked nil-all.
The hosts made a double change at half-time bringing on forwards Paula Arana and Ainize Barea for forward Yulema Corres and defender Naia Landaluze Marquínez respectively to add firepower upfront.
The pressure paid off with defender Oihane Valdezate striking in the fifth minute of second half added time off a pass from defender Nerea Nevadoto to break the hearts of visiting Alavés.
The win moved Athletic Club to 25 points, seven above the relegation zone whilst Alavés remained bottom on 15 points.
Sporting Huelva had a fruitful weekend after inflicting a 2-1 defeat on hosts Valencia at the Ciudad Deportiva de Paterna on Sunday afternoon.
The hosts took a third minute lead through forward Anita Marcos who converted a pass from midfielder Macarena Portales Nieto.
The visitors replied in the 34th minute when they were awarded a penalty and defender Laia Ballesté stepped up to convert the spot kick.
Valencia goalkeeper Enith Salón conceded a penalty in the fourth minute of added time after she fouled forward Berglind Rós Ágústsdóttir. Substitute forward Patrícia Hmírová stepped up to convert the spot kick in the fifth minute of added time to give Huelva a welcome victory which took them to 11th position on 20 points.
They, however, still find themselves two points above relegation while Valencia dropped to eighth on 33 points.
Madrid CFF continued with their inconsistency, being held to a goalless draw by visiting Sevilla at the Estadio Fernando Torres on Sunday afternoon.
The draw took Madrid CFF to 44 points whilst Sevilla moved to 35 points and are unbeaten in their last five matches.
Results (Saturday): Athletic Club 1-0 Alavés; Alhama CF ElPozo 1-1 Real Sociedad; Barcelona 4-0 Atlético Madrid; Levante Las Planas 2-3 UDG Tenerife, Levante 3-1 Villarreal
Results (Sunday): Valencia 1-2 Sporting Huelva; Madrid CFF 0-0 Sevilla; Real Betis 1-3 Real Madrid