Bayern Munich brief leaders as Hoffenheim and Frankfurt maintain pressure: Frauen-Bundesliga Week 14 Round Up
The defending champions took the lead at the summit of the log into the international break as Carl Zeiss Jena recorded first win of the season with eight matches to go.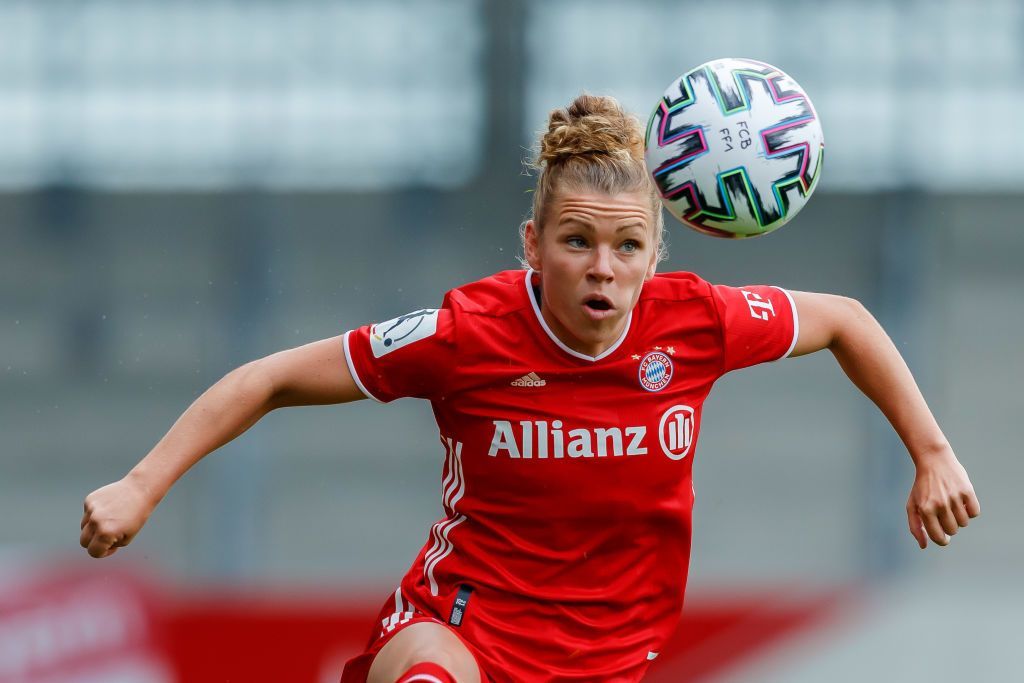 Champions Bayern Munich cruised to a third consecutive win with a 3-0 win over Freiburg away on Saturday.
Forward Giulia Gwinn opened the scoring from the penalty spot on 27 minutes before skipper Lina Magull missed an opportunity to double the lead with a missed penalty on 39 minutes.
Midfielder Linda Dallmann made it 2-0 with a strike eight minutes into the second half before Swedish defender Hanna Glas put the match beyond the hosts with a 60th minute strike to make it 3-0.
The Bavarians became brief log leaders with the win as Wolfsburg's away match against SC Sand was postponed due to Covid-19 cases in the home team. The match has been rescheduled to Sunday 27 February at 14:00 CET.
Jens Scheuer's side are now on 34 points after recording their 11th win of the season whilst Freiburg remain on 17 points after registering their seventh loss of the season.
Elsewhere, Hoffenheim edged SGS Essen 2-1 at home on Sunday to keep pressure on the title race.
Midfielder Jana Feldkamp opened the scoring with a strike five minutes into the first half before fellow defender Sarai Linder made it 2-0 with a strike five minutes from half-time.
French midfielder Estelle Laurier pulled one back to make it 2-1 for the visitors on 61 minutes but the effort would not be enough to stop Markus Högner's side from slumping to their eighth loss of the season being just two places off relegation.
The results have not been coming for Högner, who extended his contract with Essen in January this year, signing a new three-year deal which will see him stay at the club until 2025.
Hoffenheim have amassed 31 points, three short of leaders Bayern Munich and one short of Wolfsburg, who have a game in hand, whilst Essen have registered 12 points, 22 points away from the top of the table.
Frankfurt bounced back from a disappointing 2-1 defeat to Freiburg a fortnight ago with a 2-1 win away to FC Köln on Sunday.
Köln opened the scoring through Polish forward Weronika Zawistowska on 17 minutes before Germany international Nicole Anyomi equalised for Frankfurt with a 33rd minute strike, with an assist from forward Laura Freigang.
Slovenia international Lara Prašnikar put the match to bed making it 2-1 on 39 minutes as Freigang registered her second assist of the day.
The visitors were without defender Sara Doorsoun who was shown a red card in their 2-1 defeat to Freiburg a fortnight ago.
Frankfurt remain fourth on 28 points from nine wins and one draw in 14 matches whilst Köln remain eighth on 16 points from four wins and four draws in the same number of outings.
Turbine Potsdam cruised to a second consecutive victory with a 4-2 home result against Bayer Leverkusen at the Karl-Liebknecht-Stadion on Friday.
Midfielder Verena Wieder opened the scoring for Bayer with a strike on 31 minutes and the visitors went for the break in the lead.
Bosnia international Milena Nikolić made it 2-0 for Bayer on 51 minutes when she slotted home from close range from a rebound having missed a penalty.
The match looked set for a Bayer win before midfielder Dina Sophia Orschmann pulled one back for Potsdam with a strike on 70 minutes for 2-1. Midfielder Gina-Maria Chmielinski made it 2-2 three minutes later before Germany international Klara Melissa Kössler found the back of the net on 84 minutes for 3-2 as the hosts completed a late comeback.
Midfielder Nina Ehegötz put the match beyond the visitors and broke the hearts of travelling fans when she made it 4-2 with a strike four minutes into second half extra-time.
Potsdam remain fifth despite the win and have registered 27 points, one below Frankfurt on fourth, from eight wins and three draws in 14 matches whilst Bayer remain sixth on 20 points from six wins and two draws in the same number of matches.
Relegation bound Carl Zeiss Jena recorded their first win of the season with a 2-0 result against Werder Bremen away on Sunday.
The visitors opened the account with a 22nd minute strike from midfielder Julia Arnold before midfielder Sophie Walter put the contest to bed with a listing on 58 minutes to make it 2-0.
Werder Bremen have registered 11 points from three wins and two draws in 14 outings and are one place above relegation whilst Carl Zeiss Jena have now registered five points from one win and two draws in the same number of encounters and are 11th on the standings.
RESULTS (Friday): Potsdam 4 – 2 Bayer Leverkusen
RESULTS (Saturday): Freiburg 0 – 3 Bayern Munich
RESULTS (Sunday): Hoffenheim 2 - 1 SGS Essen; SC Sand (Rescheduled) Wolfsburg; Werder Bremen 0 – 2 Carl Zeiss Jena; FC Köln 1 – 2 Frankfurt