Bayern Munich seek to consolidate place as Wolfsburg, Hoffenheim play tricky fixtures: Frauen-Bundesliga Week 15 Preview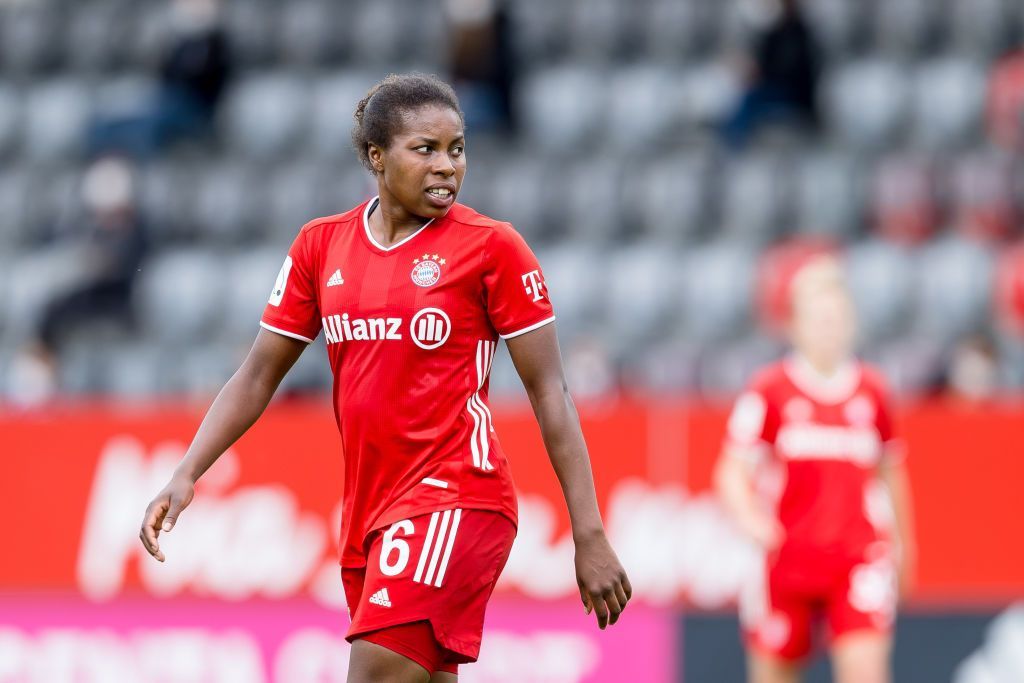 Defending champions Bayern Munich will be looking to make it four wins on the bounce with a victory over FC Köln on Sunday.
The Bavarians have a 3-0 win over Freiburg as their most recent league win and will be looking to build more momentum to retain the title as the season reaches its twilight stages.
Bayern have amassed 34 points from 11 wins and one draw in 14 matches, scoring 48 goals in the process and are two points above second-placed Wolfsburg who have a game in hand.
FC Köln, on the other hand, are eighth on the standings having registered 16 points from four wins and four draws in 14 outings.
A win for the visitors will take them to seventh above Freiburg should the latter lose their match away at Wolfsburg on Sunday.
The hosts will be banking on the services of forward Lea Schüller for goals. The 24-year-old Germany international has a stake of nine goals in the 48 team goals this season and she is the second top scorer in the current Bundesliga campaign.
Elsewhere, Wolfsburg host seventh-placed Freiburg in a tricky fixture on Sunday afternoon.
Buoyant following a 7-0 demolition of SC Sand in the DFB Pokal Quarter-Finals on Wednesday, Die Wölfinnen will look to keep pressure on defending champions Bayern Munich with a win over Daniel Kraus' side.
The hosts have amassed 32 points from 10 wins and two draws in 13 matches, having had their recent league fixture against SC Sand postponed due to Covid-19 cases in the latter's team. Tony Stroot's side have scored 36 goals in the league so far this season. Freiburg, on the other hand, have struggled with inconsistency, having registered five wins, two draws and seven defeats and are on 17 points.
In their first leg Bundesliga match in October last year, the teams drew two-all in Freiburg, and in the DFB Pokal Round of 16 the following month, Freiburg lost 3-0.
Wolfsburg will be banking on the services of Dutch midfielder Jill Roord, who has a stake of seven goals in the 36 team goals and is club top scorer.
Freiburg will turn to the services of forward Hasret Kayikci who is club top scorer with seven goals.
Third-placed Hoffenheim will look to pile pressure on the top two teams when they travel to fourth-placed Frankfurt on Saturday.
The visitors are coming from a 2-1 win over SGS Essen and will be looking to build on the result whilst Frankfurt are also coming from a 2-1 victory over FC Köln and will be looking to draw morale from the result.
Should they win, Hoffenheim, on 31 points, can go on level points with log leaders Bayern Munich should the latter lose their match.
The visitors have recorded nine wins, four draws and one defeat whilst the hosts have recorded nine wins, one draw and four defeats and are on 28 points.
Austria international Nicole Billa will be the visitors' 'queen of spades' in the fixture being joint-third top scorer in the current Bundesliga campaign with eight goals and has contributed three assists so far for her side.
On the other hand, Slovenian forward Lara Prašnikar, who is also joint-third top scorer with eight goals, will lead the warfare for the home side.
Fifth-placed Potsdam travel to ninth-placed Essen on Sunday.
Potsdam marched to their eighth win of the season with a 4-2 victory over Bayer Leverkusen in their last Bundesliga match and will be looking to make it three wins on the trot with a result over Essen this weekend.
Essen, on the other hand, will be looking to bounce back from a 2-1 defeat away to Hoffenheim in their last league outing, which was their eighth defeat of the season.
The hosts will unleash their finest artillery — Selina Cerci, the 21-year-old German forward who is Bundesliga current campaign's top scorer with 11 goals. Cerci has also registered four assists, three less than teammate Melissa Kössler, who tops current Bundesliga assist charts with seven.
Bayer Leverkusen will be looking to steer from their inconsistency woes with a win when they host Werder Bremen on Friday evening.
The hosts have registered 20 points out of a possible 42 and are sixth on the standings, 14 points from log leaders Bayern Munich.
Werder Bremen, on the other hand, are on 11 points, 23 points away from Bayern Munich and six off relegation.
Carl Zeiss Jena host SC Sand in a bottom-of-the-log clash on Sunday.
Carl Zeiss Jena have registered a meagre five points from one win and two draws in 14 encounters whilst SC Sand have registered a paltry two points from two draws in the same number of outings.
Both teams' relegation survival chances are now slim with the league being left with a few matches to go.
FIXTURES (Friday): Bayer Leverkusen vs. Werder Bremen (19:15hrs);
FIXTURES (Saturday): Frankfurt vs. Hoffenheim (13:00);
FIXTURES (Sunday): Wolfsburg vs. Freiburg (13:00hrs); Carl Zeiss Jena vs. SC Sand (13:00hrs); SGS Essen vs. Potsdam (16:00hrs); Bayern Munich vs. FC Köln (16:00hrs)
All times are Central European Time (CET)