DFB-Pokal Frauen Round Up: Bayern Munich edge Frankfurt, Leverkusen cruise past Hoffenheim and Werder Bremen lose to SC Sand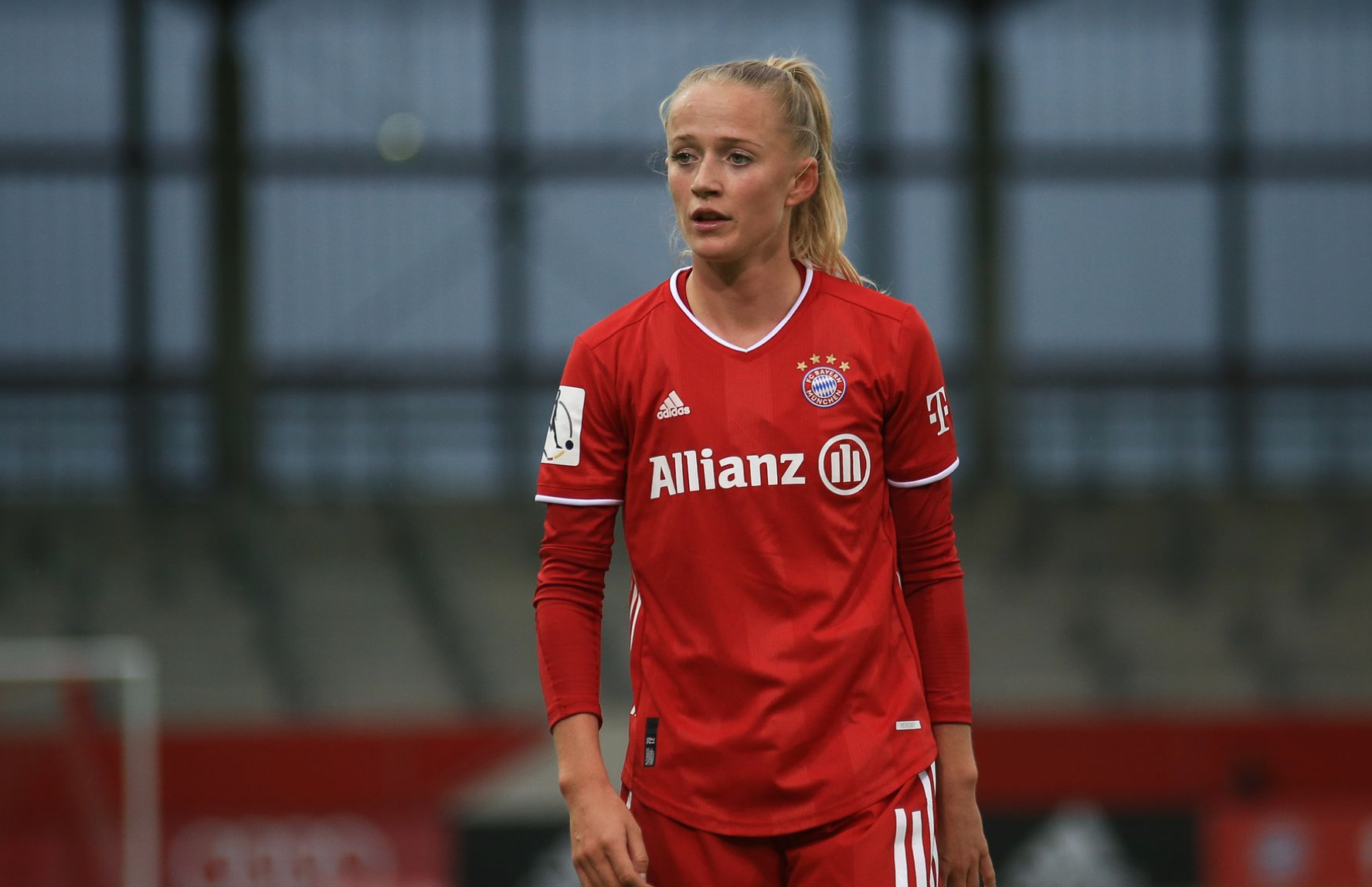 Bayern Munich sailed to the quarter-finals of the DFB-Pokal Frauen after edging Frankfurt 4-2 at home on Saturday. The two sides met for the second time in a fortnight after Frankfurt had dismissed the Bavarians 3-2 in a Bundesliga clash in Frankfurt on 17 October. Frankfurt were last season's DFB-Pokal silver-medalists, losing 1-0 to Wolfsburg in the final while the Bavarians bowed out in the quarter-finals. Bayern opened a two-goal lead early in the match, with strikes from forward Lea Schuller and defender Giulia Gwinn in the 25th minute and 37th minute respectively, before Frankfurt midfielder Sjoeke Nüsken made it 2-1 with a strike four minutes from the break. Forward Klara Bühl made it 3-1 10 minutes into the second half, before a resolute Frankfurt made it 3-2 through midfielder Laura Feiersinger on 63 minutes. Klara Bühl completed her brace 12 minutes from time to make it 4-2 as the visitors were denied back-to-back wins over the Bundesliga champions.
Elsewhere, Bayer Leverkusen progressed to the quarter-finals by beating Hoffenheim 5-4 on penalties after the match had produced a 2-2 stalemate. Last season, Leverkusen bowed out in the second round. Hoffenheim opened the scoring on 62 minutes with a goal from midfielder Tine De Caigny, before the hosts responded three minutes before time with a Dora Zeller goal. The match went to extra time, with the Hungarian forward making it 2-1 for Leverkusen in the 105th minute. Hoffenheim stunned the hosts, immediately making it 2-2 on the same minute with a strike from midfielder Judith Steinert.
Werder Bremen were knocked out of the tournament with a 1-0 loss to SC Sand. Forward Leonie Kreil struck nine minutes into the first half.
Turbine Potsdam knocked FC Köln out of the tournament with a 2-0 win. Goals from midfielder Marie Hobinger and forward Selina Cerci were enough for the hosts to cruise to the quarter-finals of the DFB-Pokal.
SGS Essen dumped Hamburger SV out of the tournament with a 1-0 win. Striker Maike Berentzen scored 23 minutes into the second half.
Carl Zeiss Jena edged Karlsruher SC 3-1. Striker Verena Volkmer opened the scoring from the penalty spot in the 70th minute, before Karlsruher midfielder Lisa Grünbacher made it 1-1 two minutes later. Defender Lisa-Marei Halm gave the visitors the lead on 83 minutes with an own goal before Zeiss Jena midfielder Nicole Woldmann made it 3-1 one minute before time.
Henstedt-Ulzburg thrashed SF Siegen 9-0. Three braces from forward Monja Kunrath, midfielder Jette Schulz and midfielder Indra Hahn as well as goals from defender Rieke Ehlers, forward Franziska Hilmer and midfielder Nane Krüger made sure the visitors progressed to the quarter-finals of the DFB-Pokal.
Meanwhile, last season's DFB-Pokal winners Wolfburg travel to Freiburg tonight Monday.
ROUND OF 16 RESULTS:
Karlsruher 1 – 3 Carl Zeiss Jena, Bayern Munich 4 – 2 Eintracht Frankfurt, Werder Bremen 0 – 1 Sand, Sportfreunde Siegen 0 – 9 Henstedt-Ulzburg, Turbine Potsdam 2 – 0 Köln, Bayer Leverkusen 2 – 2 (5 – 4 penalties) Hoffenheim, Hamburg 0 – 1 Essen.
Freiburg vs. Wolfsburg — Monday November 1.