Frauen-Bundesliga Matchday 8 Round-Up: Wolfsburg swings title race, Hoffenheim humiliates Leverkusen and Frankfurt routs Zeiss Jena.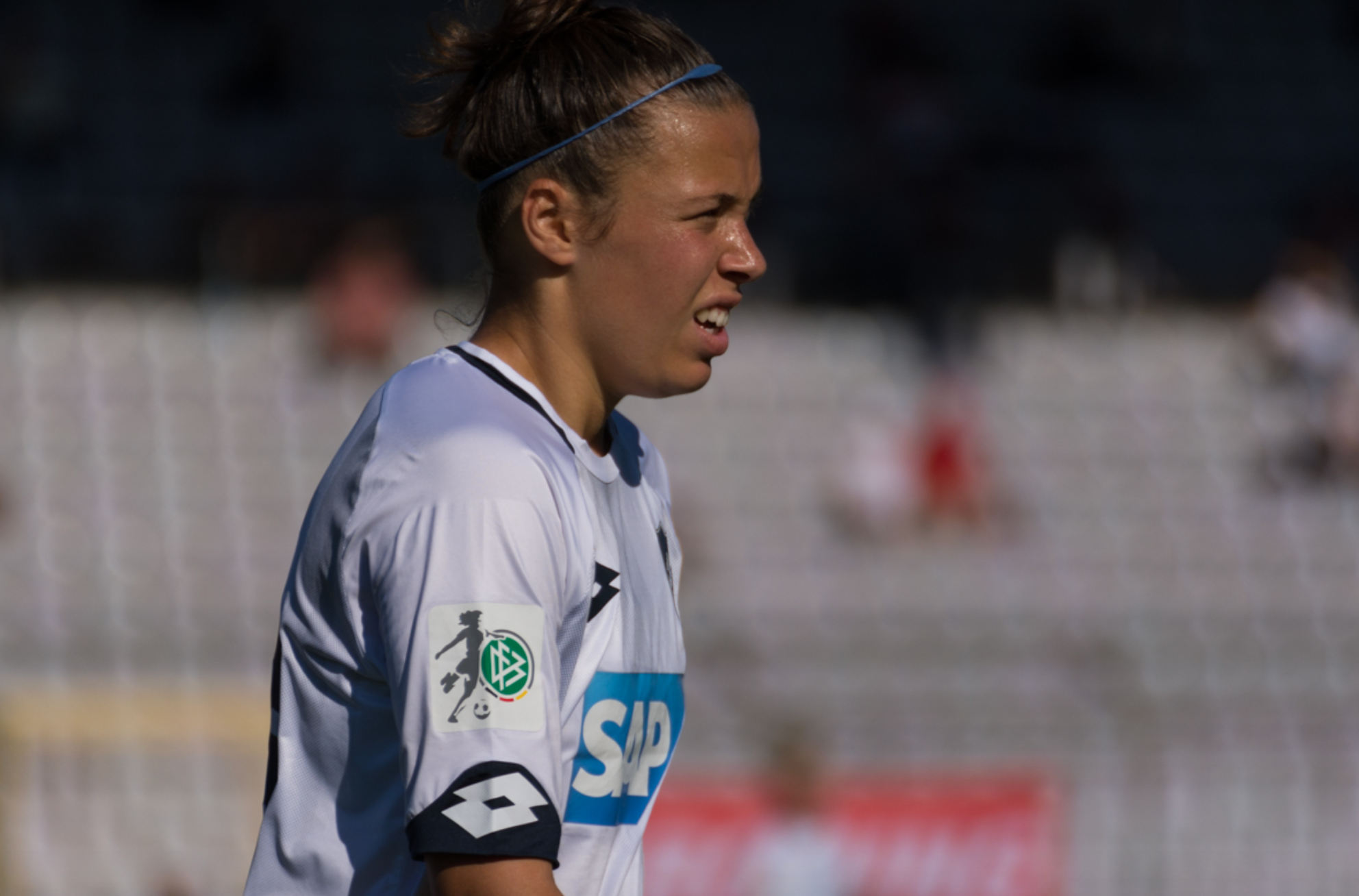 Wolfsburg cruised to the summit of the Frauen-Bundesliga log with a 1-0 win over reigning champions Bayern Munich away at FC Bayern Campus on Saturday. A 69th minute header by defender German-Belgian defender Kathrin Hendrich sealed the victory for Wolfsburg as Bayern slipped from the top of the log for the first time this season. The Bavarians, with 18 points, are now on third place behind Wolfsburg and Hoffenheim who have 19 points apiece. Wolfsburg are superior to Hoffenheim on goal difference.
Hoffenheim vs. Bayer Leverkusen
Hoffenheim humiliated Bayer Leverkusen with a 7-1 win at home on Sunday. Braces from midfielders Chantal Hagel and Gia Corley and goals from forward Nicole Billa, midfielder Jule Brand and defender Katharina Naschenweng sealed an emphatic win for Gabor Gallai's side. A 58th minute goal from Bosnian striker Milena Nikolić would only serve as consolation for the visitors. Hoffenheim rose to second place on the log with the victory as 15-point Bayer slipped to sixth position on the log with their second defeat in a row.
Frankfurt vs. Carl Zeiss Jena
Frankfurt rose to fourth place with a 6-0 rout of relegation haunted Carl Zeiss Jena at home on Friday. A brace from midfielder Barbara Dunst and goals from forwards Laura Freigang, Lara Prašnikar and Shekiera Martinez as well as a Denise Landmann own goal handed the Frankfurt side a crucial win as the hosts recovered from a 3-2 defeat to Wolfsburg the previous week. 18-point Frankfurt are now on level points with defending champions Bayern Munich, who are on third place due to a superior goal difference. Carl Zeiss Jena are stuck in drop zone with two points from two draws in eight encounters.
Freiburg vs. Werder Bremen
Freiburg edged Werder Bremen 1-0 at the Möslestadion on Sunday. A goal from defender Kim Fellhauer three minutes into the first half would be enough for Daniel Kraus' side to rise to eighth place on the log with seven points. The defeat saw Werder Bremen slip to 10th place on the log. Bremen have also managed seven points from eight encounters but are 10th due to an inferior goal difference.
FC Köln vs. Turbine Potsdam
Potsdam cruised to their sixth consecutive win in the Frauen-Bundesliga with a 3-1 victory away at FC Köln on Sunday. Dutch midfielder Myrthe Moorrees opened the scoring for the home side on 22 minutes before Potsdam striker Selina Cerci made it 1-1 on 60 minutes. A brace from forward Klara Kössler on 73 and 88 minutes secured the crucial win for Sofian Chahed's side. The visitors, now with 18 points from eight contests, maintained their fifth position on the log while seven-point FC Köln slipped to ninth.
SGS Essen vs. SC Sand
SGS Essen thrashed SC Sand 4-1 at home on Sunday. Forward Maike Berentzen opened the scoring for the home team on 17 minutes. SC Sand defender Marina Georgieva made it 1-1 from the penalty spot in the 72nd minute before Essen forward Carlotta Wamser made it 2-1 six minutes later. Midfielder Elisa Senß made it 3-1 on 87 minutes. The German completed her brace two minutes later handing the hosts a comfortable win over the relegation haunted visitors. SC Sand are stuck on 12th place with one point from eight matches while the hosts rose to seventh place on the log having amassed eight points from as many outings.
Photo by EL Loko, CC BY 4.0 via Wikimedia Commons