Frauen-Bundesliga Matchday 9 Round-Up: Wolfsburg destroys Essen, Bayern eases past relegation bound Carl Zeiss Jena and Hoffenheim held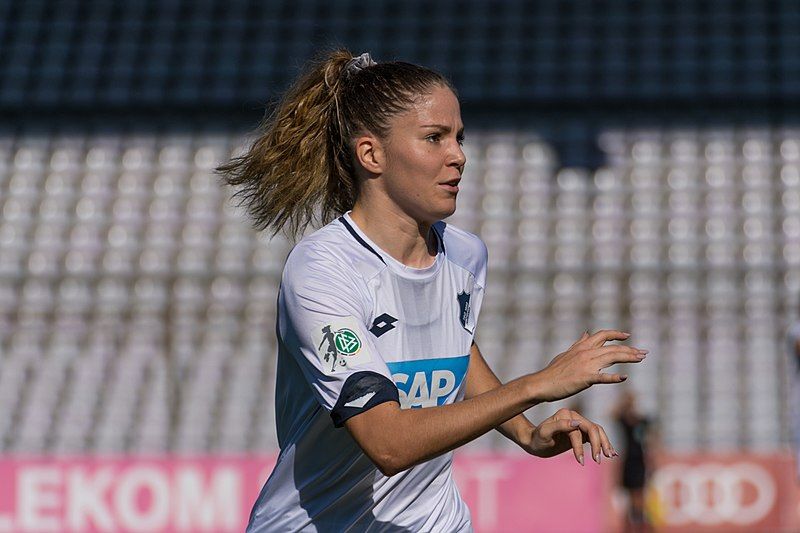 Wolfsburg maintained their dominance at the summit of the Bundesliga standings with a 5-1 destruction of SGS Essen at home on Sunday.
Forward Pauline Bremer opened the scoring with a strike seven minutes into the first half before midfielder-cum-forward Jill Roord made it 2-0 three minutes before the break. Bremer completed her brace with another strike in the 58thminute to make it 3-0.
Swedish forward Rebecka Blomqvist put the match beyond the visitors with a 71stminute strike which made it 4-0 for the hosts. Essen forward Vivien Endemann found the net in the 86th minute to make it 4-1 for the visitors but the goal would prove to be only consolation.
Forward Tabea Waßmuth put the match to bed with a goal three minutes into second half extra-time to finish the contest at 5-1.
The visitors slipped from seventh place to eighth on the log with the defeat, having registered a meagre eight points from a possible 27 in nine matches.
Bayern Munich vs. Carl Zeiss Jena
Defending champions Bayern Munich eased past relegation bound Carl Zeiss Jena with a 3-0 win at the FC Bayern Campus on Sunday.
Current Bundesliga top scorer Lea Schüller put the hosts in the lead with a strike seven minutes into the first half, taking her goal tally of the season to seven. Carl Zeiss Jena defender Sophie Walter made it 2-0 on 66 minutes with an own goal before Bayern forward Sofia Jakobsson made it 3-0 six minutes from full-time.
The Bavarians climbed one step up the ladder to second place with the win and remain within a point of the log leaders Wolfsburg. Eleventh-placed Carl Zeiss Jena remain stuck in deportation zone with two points from nine matches.
Potsdam vs. Hoffenheim
Hoffenheim were held to a 3-3 draw away in Potsdam on Sunday.
Forward Selina Cerci opened the scoring with a strike eight minutes into the first half before midfielder Klara Kössler made it 2-0 in the 14th minute.
Hoffenheim midfielder Judith Steinert made it 2-1 with a strike two minutes after the break before Cerci completed her brace with a 70th minute strike to make it 3-1. Utility player Tine De Caigny made it 3-2 for the visitors in the 84th minute before defender Luana Bühler made it 3-3 at the death of regulation time as the Baden-Württemberg side rescued a point on a difficult afternoon at the Karl-Liebknecht-Stadion.
Hoffenheim slipped from second to fourth on the log standings with the draw. Gabor Gallai's troops have now registered 20 points from six wins and two draws in nine matches.
Potsdam, on the other hand, are one point behind Hoffenheim from six wins and one draw and are sitting on fifth place on the log.
Bayer Leverkusen vs. Frankfurt
Frankfurt collected maximum points when they edged Bayer Leverkusen 1-0 away in Cologne on Sunday.
Slovenian forward Lara Prašnikar scored the only goal of the contest with a 26thminute strike which ensured that the Frankfurt side, with 21 points, rose from fourth place to third on the log.
Bayer, on the other hand, remain on sixth place having amassed 15 points from nine outings.
SC Sand vs. Freiburg
Freiburg beat relegation bound SC Sand 2-0 away at the Orsay-Stadion in Willstätt on Saturday.
Kosovan forward Erëleta Memeti opened the scoring for the visitors with a 74thminute strike before Slovakian defender Jana Vojteková made it 2-0 nine minutes later to ensure that the Freiburg side collected maximum points.
Seven-point Freiburg rose from eighth place to seventh on the log with the win while one-point Sand remain stuck on 12th place in deportation zone.
Werder Bremen vs. FC Köln
Werder Bremen were held to a nil all draw by FC Köln at home on Friday.
Werder Bremen, on 10th position on the log, have registered eight points from two wins and two defeats in nine encounters while ninth-placed Köln share the exact stats but have a superior goal difference.
RESULTS:
Wolfsburg 5 — 1 SGS Essen; Bayern Munich 3 — 0 Carl Zeiss Jena; Potsdam 3 — 3 Hoffenheim; Bayer Leverkusen 0 — 1 Frankfurt; SC Sand 0 — 2 Freiburg; Werder Bremen 0 — 0 FC Köln.
Photograph by EL Loko, CC BY 4.0, via Wikimedia Commons