Frauen Bundesliga Week 12 Preview: Bayern Munich seek to reclaim top spot as Wolfsburg face tricky tie away at Potsdam
Wolfsburg are not short of confidence after running riot and dumping Chelsea out of the UEFA Women's Champions League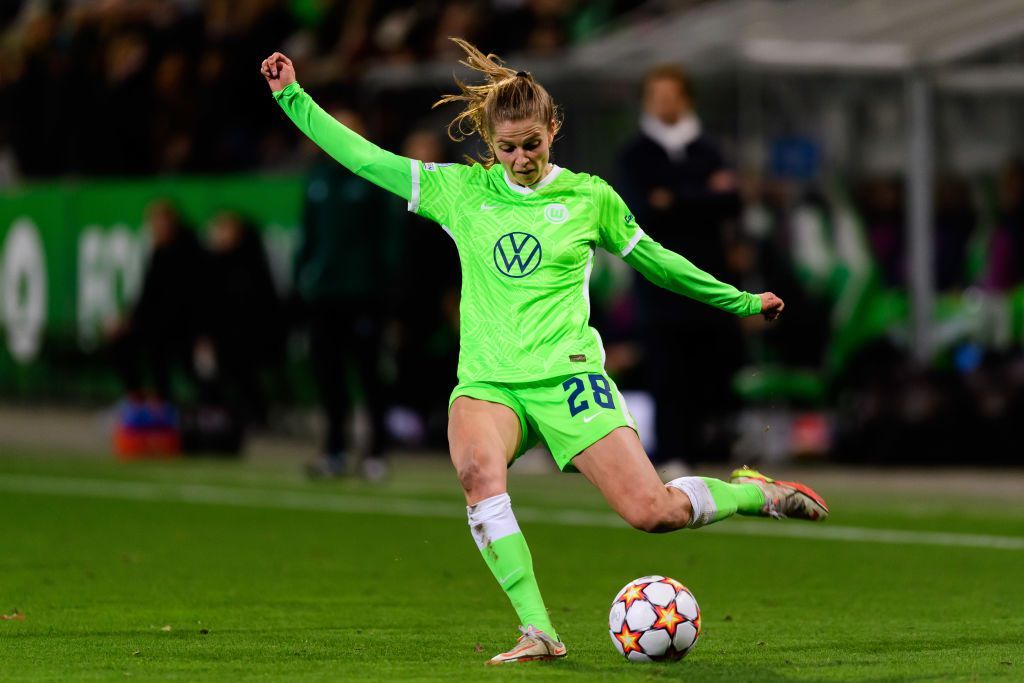 Log leaders Wolfsburg will seek to stretch their lead on top of the Bundesliga table when they travel to Potsdam on Sunday.
Die Wölfinnen will be looking to mount a definitive title charge at the Karl-Liebknecht-Stadion to shrug off a disappointing one-all draw away at Bayer Leverkusen last Saturday.
The Lower-Saxony side, however, have a huge morale boost coming from their 4-0 UEFA Women's Champions League demolition of Chelsea on Thursday while Potsdam have nothing but a one-all draw with Bayern Munich to build on.
Potsdam, however, have been undefeated since September.
Sofian Chahed's side will be wary of Wolfsburg's in-form forwards Tabea Waßmuth and Svenja Huth who scored a brace each in their 4-0 win over Chelsea.
Wolfsburg have amassed 26 points from eight wins and two draws from 11 matches while fifth-placed Potsdam are five points away having recorded six wins and three draws from the same number of matches.
Elsewhere, defending champions and second-placed Bayern Munich will be looking to shake off a disappointing one-all draw with Potsdam last weekend when they travel to 10thplaced Werder Bremen on Sunday.
The Bavarians, who topped the log for the greater part of this season, have struggled to reclaim top spot since being displaced by Wolfsburg a few weeks ago.
The Munich side have a huge confidence and morale boost going into their 12thleague clash of the season coming from an emphatic 4-0 victory over Benfica in the UEFA Women's Champions League on Wednesday.
Werder Bremen, on the other hand, only registered their third win of the season with a 1-0 win over Frankfurt last Sunday and will be looking to draw confidence from the result going into this clash.
The Bavarians will count on their taliswoman Lea Schuller, who is the current Bundesliga top goal scorer with nine goals. Schuller also scored in their 4-0 win over Benfica on Wednesday.
Third-placed Hoffenheim travel to seventh-placed Freiburg on Saturday.
Hoffenheim are coming from a disappointing one-all draw away at SC Sand while Freiburg are coming from a two-all draw with FC Köln.
The visitors are relishing the prospects of going on top of the table with a win away while the home side can rise to sixth on the log with a win at home.
Hoffenheim are within two points of log leaders Wolfsburg and have recorded seven wins, three draws and one loss while the hosts have collected 14 points and have registered four wins, two defeats and five defeats.
Fourth-placed Frankfurt travel to lowly Sand on Sunday.
Frankfurt recorded their third defeat of the season last weekend with a 1-0 loss to Werder Bremen and will be looking to shrug off the disappointment with a win over the relegation haunted side.
Sand, on the other hand, stunned Hoffenheim, collecting a point at home in a one-all draw last Sunday and will be seeking motivation as they seek their first win of the season.
Sixth-placed Bayer Leverkusen host relegation-bound Carl Zeiss Jena at the Ulrich-Haberland Stadion on Sunday.
Bayer impeded Wolfsburg's title charge with a one-all draw at home on Saturday and will now be looking to register their sixth win of the season against Carl Zeiss Jena.
Carl Zeiss Jena, on the other hand, are coming from a 4-0 demolition at the hands of SGS Essen on Sunday and will be looking to bounce back from the defeat to register their first win of the season.
Bayer have registered 16 points from five wins and one draw in 11 contests while Carl Zeiss Jena have two points from two draws from the same number of contests.
Eighth-placed FC Köln host ninth-placed SGS Essen in a Friday evening kick-off.
Köln are coming from holding Freiburg 2-2 away last Friday while Essen are coming from an emphatic 4-0 win over Carl Zeiss Jena last Sunday and both sides will be looking to collect maximum points with half of the league matches having been played.
After this round of matches, Frauen-Bundesliga takes a break and returns in February.
Fixtures: (Friday) FC Köln vs SGS Essen 19:15
Fixtures: (Saturday) Freiburg vs Hoffenheim 13:00;
Fixtures: (Sunday) SC Sand vs Frankfurt 13:00; Bayer Leverkusen vs Carl Zeiss Jena 13:00; Werder Bremen vs Bayern Munich 16:00; Potsdam vs Wolfsburg 16:00
All times Central European Time (CET).
(Photo by Nico Paetzel/DeFodi Images via Getty Images)