Game. Set. Match? Season defining matchday as Lyon, PSG clash: D1 Arkema Week 21 Preview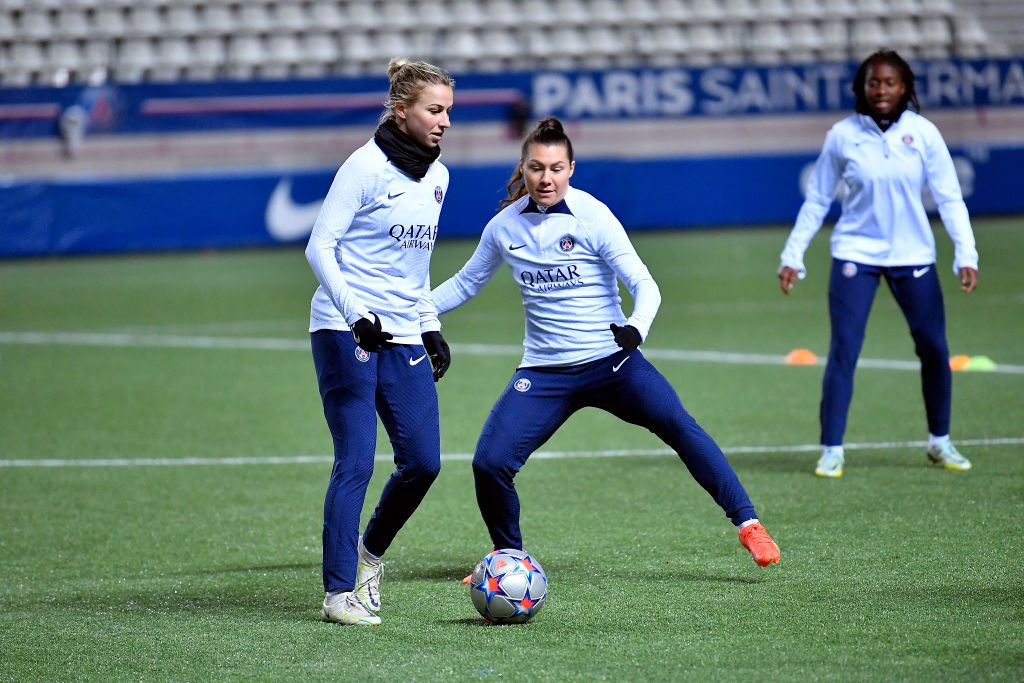 The penultimate matchday of the D1 Arkema ensues with a humdinger clash between leaders Olympique Lyon and Paris Saint-Germain in the capital on Sunday evening.
Buoyant after seeing-off PSG 2-1 in the Coupe de France feminine final last week, coach Sonia Bompastor will be out to seal the destiny of the league title with one match to go.
Lyon head into the match boasting an 11:4 head-to-head advantage having scored 32:11 goals in a total of 20 matches in recent history of the fixture.
With forward Ada Hegerberg in impressive goal scoring form since her return from injury, scoring five goals in four matches since the 25th of March, another good day in the office will be on the menu. Goalkeeping stalwart Christiane Endler, who has 11 clean sheets in 18 matches, will be out to better her save percentage of 78.8% on the domestic front.
Bompastor, riding high after recently being named D1 Arkema Manager of the Year, will be eager to lead her charges to their 12th victory over Les Rouge-et-Bleu.
Addressing the media, the Lyon manager emphasized the need for her team to be on top of their game saying: "It's the final of the championship. Paris is a quality team, which will inevitably be revengeful on Sunday evening. The girls are experienced, they are competitors. We absolutely want to end the season as best beautiful in manners."
On the other hand, the hosts will be looking to delay the coronation of this year's championship and possibly clinch the title right under the nose of Lyon.
Division's leading goal scorer Kadidiatou Diani, who has 24 goals and assists this season, will be out to increase her tally. Buoyed by her recent Player of the Season award, Diani will be looking to help her team perform a Houdini Act and wrestle the title from Lyon. Fresh from dominating the 'Trophees D1 Arkema', where Diani, Lieke Martens, Elisa De Almeida all scooped awards, PSG will be out to send the title chase down to the wire.
Meanwhile, Paris FC, who currently occupy third with 36 points, host bottom-placed Soyaux-Charente at the Estadio Charléty on Saturday, as the race for third-rank finish heats-up for next season's champions league football.
Enjoying an unassailable 8:0 win ratio against the division strugglers, Paris FC will be rubbing their hands at the prospect of another win against relegation-threatened Soyaux.
French striker Mathilde Bourdieu, who has found the net 11 times in 1090 minutes, will be eager to increase her tally as she looks to finish the season on a high.
Soyaux, on the other hand, will be looking to mount a late charge at survival as they seem to be running on last legs.
A win for Sandrine Soubeyrand's side will go a long way in helping them finish third again this season.
Fleury 91 will be looking to bounce back from a 2-1 defeat at the hands of Montpellier when they visit Stade Sainte-Germaine for a date against Bordeaux on Sunday afternoon.
Having won three, drawn two and lost six against the hosts, coach Fabrice Abriel will be looking to guide her team to victory this weekend.
Ivorian forward Rosemonde Kouassi, who has nine goals and five assists in 18 matches, will be out to lead her teams charge for a third place finish.
The hosts will be banking on Maëlle Garbino, who has netted nine goals and one assist in 1549 minutes. A win will be key in helping Bordeaux finish respectably.
A resurgent Montpellier will be out to maintain their upward trajectory when the play hosts to Le Havre at Stade Bernard Gasset Terrain n°7 on Sunday afternoon.
Enjoying a 100% win rate over Le Havre which has seen them win three games and lose none, coach Yannick Chandioux will be pushing his charges in an effort to launch a late charge at a third place finish.
All eyes will be on Haitian forward Nerilia Mondesir, who has nine goals and one assist in 19 games, as she will be eager to give her season a boost heading into the final games with all eyes firmly on the 2023 FIFA Women's World Cup.
On the other hand, Le Havre, who have been punching above their weight to earn a seventh-rank so far this season, will be out to run the hosts some hard yards as they look to have a say on who finishes third.
Forward Kelsey Araujo, who has five goals and one assist in 1114 minutes, will be relied upon to provide the goals.
Stade de Reims, who have held forte mid-table for the greater part of the season, will host relegation-threatened Dijon on Sunday afternoon.
With stakes evenly poised at two wins apiece and four draws in this fixture, the game at the weekend could go either way with both teams embroiled in different battles.
Free-scoring duo of Kessya Bussy and Haitian teenage sensation Melchie Dumornay, who have eight goals apiece this season, will be out to ensure they continue scoring as well as book flights to the 2023 FIFA World Cup for France and Haiti respectively.
Dijon, on the other hand, will be looking to mount some form of resistance to the impending relegation they found themselves in. A defeat at the hands of Reims will deal them a major blow in terms of their fight for survival.
Guingamp host 10th placed Rodez at Stade du Roudourou on Sunday, having turned a corner after a very difficult start to the season.
Fresh from a 2-1 win over perennial strugglers Soyaux last week, coach Frédéric Biancalani will be looking to lead his team to another victory.
With a 100% win rate over the visitors, posting four wins and one draw in the five matches between the two teams, a win to secure mid-table finish will well and truly be on the menu.
Chief goal getter Sarah Cambot, who has netted seven goals and assisted another two in 1661 minutes, will be out to provide the goals.
Meanwhile Rodez, who are caught-up in the relegation fight having amassed 12 points thus far this season, will be aiming for a last-ditch shot at survival.
Another defeat will place them in danger of a quick return to the lower league.
Click on a match below to follow it Live! on forzafootball.com and on the Forza Football App
Fixtures (Sunday): Paris FC  vs Soyaux-Charente (12:30); Reims vs  Dijon (12:30); Evant Guingamp vs Rodez (12:30); Bordeaux vs  Fleury (12:30); Montpellier vs Le Havre (12:30) PSG vs Lyon (21:00)
All times are Central European Time (CET)