Giacinti seals Le Giallorosse win as Bianconere, Le Nerrazurre held: Serie A Femminile Week 10 Round Up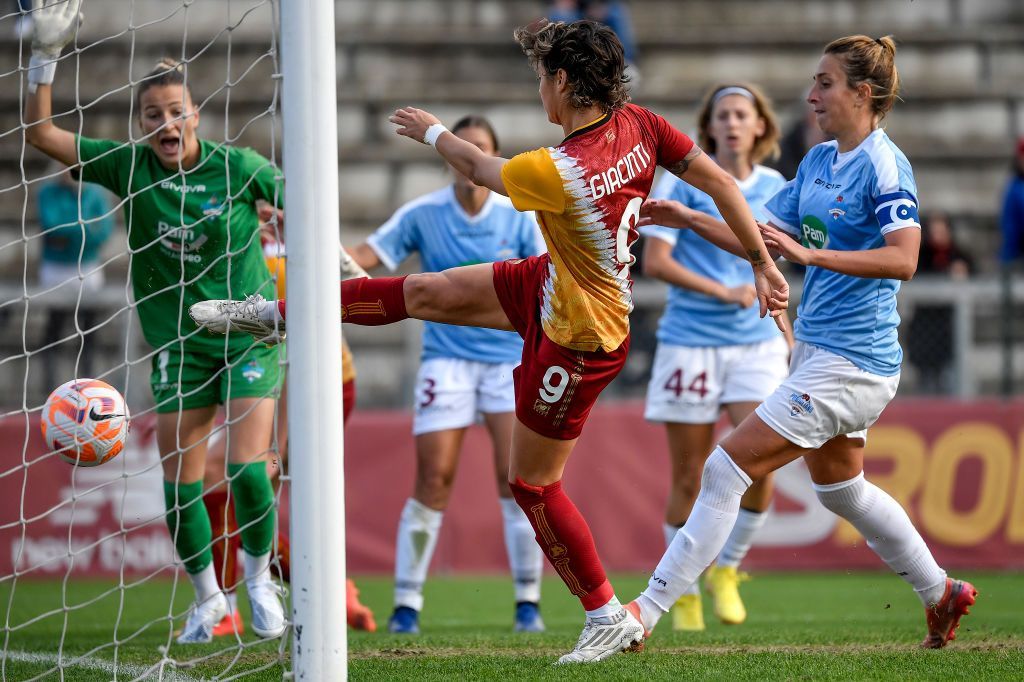 Goals from Annamaria Serturini and Valentina Giacinti were enough to take AS Roma to their sixth consecutive win in the Serie A at home on Sunday.
Serturini put Roma in the lead at the stroke of half-time with a right footed shot into the bottom right corner from outside the area having received a weighted pass from Brazilian midfielder Andressa Alves.
Pomigliano made the first change bringing on forward Verena Amorin for fellow forward Ana Martinez on 52 minutes before Roma responded 11 minutes later with a triple substitution taking out midfielder Norma Cinotti for midfielder Giada Greggi, Serturini for forward Benedetta Glionna and forward Paloma Lázaro for Giacinti.
Pomigliano could not find an equaliser neither could Roma increase the lead and more substitutions came with the former replacing forward Veronica Battelani with defender Debora Novellino and midfielder Valentina Gallazzi with midfielder Iris Rabot on 71 minutes and Roma introducing forward Emilie Haavi for midfielder Elin Landström on 77 minutes.
The 83rd minute saw Pomigliano replace midfielder Tatiely da Neves with forward Alice Corelli and midfielder Virginia Di Giammarino coming off for fellow midfielder Giorgia Miotto with Roma pulling out Alves for attacking midfielder Zara Kramžar on 86 minutes.
The match looked all set to finish 1-0 before Giacinti netted in the third minute of second half extra-time with a right footed shot into the bottom left corner from very close range after pouncing on a headed pass from former LSK Kvinner forward Sophie Roman Haug inside the area on the right.
The lead saw Roma open a six point lead at the summit of the Serie A log with nine wins in 10 matches in the bag. Pomigliano, on the other hand, saw themselves slump to their seventh defeat of the season. Domenico Panico's side are ninth on the standings on seven points from two wins and a draw in 10 outings.
Meanwhile, Juventus were held to a shock one-all draw by Serie A novices Como at home on Sunday.
The Turin side took the lead in the 21stminute through Canadian midfielder Julia Grosso who slotted home with a left footed shot which came off the upright and went in after having laid up by forward Sofia Cantore.
Cantore had seen her spectacular opener in the 15th minute being ruled for offside before Como defender Giulia Rizzon also saw her effort ruled for offside just two minutes later.
Rizzon had a chance to pull level for the visitors when they were awarded a penalty on 34 minutes after Juventus defender Linda Sembrant had brought down forward Chiara Beccari in the box but the 29-year-old's spot kick was saved by French goalkeeper Pauline Peyraud Magnin.
Changes occurred in the second half with Como pulling out forward Vlada Kubassova for forward Greta Di Luzio and midfielder Luica Pastrenge for Miriam Picchi on 61 minutes and 62 minutes respectively.
The changes paid off sooner as Beccari made it 1-1 in the 68th minute with a left footed shot into the bottom right corner from just inside the area after having been laid up by Di Luzio.
The hosts immediately responded to the equaliser by introducing midfielder Annahita Zamanian for Grosso on 68 minutes before introducing midfielder Valentina Cernoia for midfielder Arianna Caruso on 74 minutes then defender Evelina Duljan for forward Agnese Bonfantini in the 80th minute but could not get the winner.
The visitors, on the other hand, introduced 18-year-old defender Chiara Bianchi for Beccari in the 91st minute to consolidate the rear guard amid a late Juventus onslaught.
The teams shared the spoils, a result which, on one hand, left second place Juventus six points adrift the league leaders Roma and on the other, saw eighth place Como succumb to a third consecutive draw.
Inter Milan came back from two goals down to secure a point in a 2-2 draw against Parma away on Monday evening.
Forward Melania Martinovic opened the scoring with a strike on 32 minutes with an assist from midfielder Niamh Farrelly and the match would go for half-time with the hosts in the lead.
Former Roma forward Marija Banušić made it 2-0 with a strike on 59 minutes after being laid up by Martinovic before Inter defender Stefanie van der Gragt pulled one back with a 70th minute strike with an assist from defender Lisa Alborghetti.
76th minute substitute forward Tabitha Chawinga made it 2-2 just four minutes after coming on with an assist from forward Tatiana Benetti.
The result left Inter third on the standings on 19 points from five wins and four draws in 10 outings whilst Parma are at the bottom of the log on five points from one win and two draws in the same number of contests.
Martina Piemonte and Lindsey Thomas netted braces as AC Milan routed Fiorentina 6-1 away on Saturday.
Piemonte opened the scoring for Milan with a strike 11 minutes into the first half with an assist from full back Guðný Árnadóttir before Thomas doubled the lead just eight minutes later.
Thomas completed her brace with a 40thminute strike off a Marta Mascarello assist before Piemonte returned to complete her own brace at the stroke of half-time with an assist from defender Sara Thrige and the visitors went for the breather with a four goal cushion.
Half-time substitute midfielder Emma Severini pulled one back for Fiorentina just seconds after coming on with an assist from forward Miriam Longo before defender Stefanie Breitner scored an own goal on 75 minutes to make it 5-1.
85th minute substitute forward Micheala Dubcová made it 6-1 with a strike just five minutes after coming on with an assist from midfielder Kamila Dubcová.
Milan are now on 16 points from five wins and a draw in 10 encounters and are fifth on the standings whilst Fiorentina, who typically start seasons on a high before faltering halfway, are now on 19 points from six wins and a draw in the same number of contests and are fourth.
Sassuolo moved to seventh on the standings after recording their second win of the term with a 2-0 victory over Sampdoria on Saturday.
Forward Eleonora Goldoni opened the scoring for the visitors with a strike on 21 minutes off a Sara Mella assist and Sassuolo went for the break in the lead.
Forward Valeria Monterubbiano doubled the visitors' lead 10 minutes into the second half with Goldoni turning provider to ensure that the troubled Reggio Emilia side collected their second full set of points.
Sassuolo are now on nine points from two wins and three draws in 10 games whilst Sampdoria are sixth on the standings on 10 points from three wins and a draw in the same number of outings.
RESULTS: Saturday 26 November, 2022 (AS Roma 2 – 0 A.S.D Pomigliano)
RESULTS: Saturday 26 November, 2022 (Fiorentina 1 – 6 AC Milan)
RESULTS: Sunday 27 November, 2022 (U.C Sampdoria 0 – 2 US Sassuolo)
RESULTS: Sunday 27 November, 2022 (Juventus 1 – 1 Como)
RESULTS: Monday 28 November, 2022 (Parma 2 – 2 Internazionale)