Juventus held, Lazio stun Sassuolo and Fiorentina in relegation zone: Serie A Femminile Week 16 Round-Up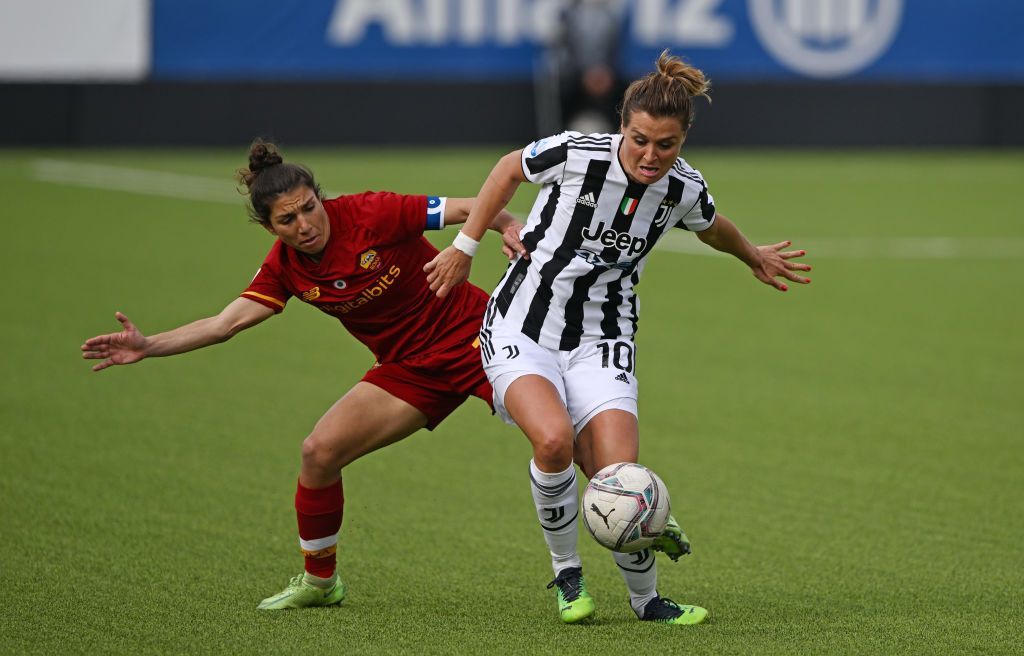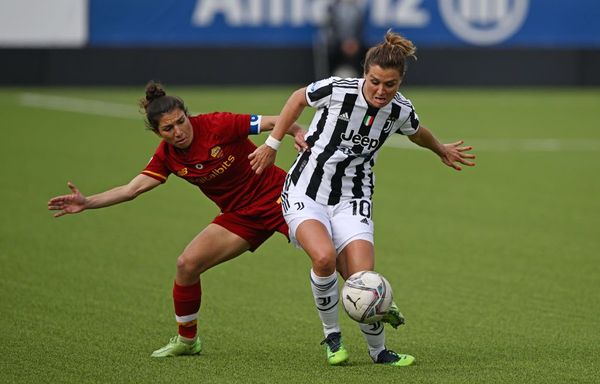 Juventus' title charge suffered another blow when they were held to a one-all draw by AS Roma at the Juventus Centre on Saturday.
Juventus coach Joe Montemurro made five changes to the team which lost 2-1 to Empoli a week ago, bringing in Lisa Boattin, Martina Lenzini, Sofie Junge Pedersen and Barbara Bonansea for Amanda Nilden, Tuija Hyyrynen, Julia Grosso and Lina Hurtig respectively whilst AS Roma coach Alessandro Spugna made no changes to the team which beat Inter Milan 2-0 a week ago.
The defending champions took the lead through an own goal by Roma defender Angelica Soffia 11 minutes into the first half and the match would go to the break at 1-0.
Spanish forward Paloma Lázaro equalised for Roma 16 minutes into the second half to make it 1-1 and the teams would share the spoils as the Turin side recorded their second draw of the season.
Montemurro lamented his team's continued loss of form saying that they needed to find solutions and get back to winning ways.
"The team is not doing well now and we need to find a way to make a turn. Let us start again from the desire of the team and from the unity that I have seen [before].
"In the first half we were compact and created a couple of chances; in the second half Roma had more space and more possession. We do not want excuses, [but] we cannot play if the other players have the ball and today we have not had enough ball", Montemurro is quoted by the club's official website as saying.
Spugna, on the other hand, praised his troops saying that they had come to play and that they were happy with the result.
"Today we came here to play it, on equal terms, great, we deserved it. The point was a bit hard, but let us move on. The championship is still very open, there are six matches to go.
"Especially for the second half. It was a second half that I really enjoyed, [we] dominated from the point of view of the game. With a little more cynicism we would have won. But let us enjoy the moment, we had a great performance against a strong team; in the first half it did not seem so bad either," Spugna is quoted by the Italian media as saying.
The Bianconere are now on 41 points with six games to go and are three points above second-placed Roma who have shown great consistency in their title charge.
Elsewhere, Sassuolo were stunned by relegation bound Lazio with a 3-1 defeat away in Rome on Sunday.
Lazio opened the scoring with a strike by Norwegian forward Johanne Fridlund in the first minute before forward Michela Cambiaghi equalised for the visitors two minutes later to make it 1-1.
Midfielder Giulia Ferrandi made it 2-1 for Lazio from the penalty spot on 24 minutes after Sassuolo's Belgian goalkeeper Diede Lemey had brought down defender Francesca Pittaccio in the box. Maltese midfielder Rachel Cuschieri put the match to bed with a strike at the death of regulation time to award the relegation threatened side their second win of the season.
Sassuolo remain on 35 points after recording their third defeat of the season and are six points away from champions Juventus whilst Lazio are now on seven points after the win.
AC Milan's chances of catching up with the leading pack were frustrated after they were held to a one-all draw by relegation threatened Napoli at home.
French forward Lindsey Thomas opened the scoring with a strike two minutes into the first half with an assist from forward Valentina Bergamaschi and the match would go to half-time at 1-0.
The Milan side momentarily looked set for their 11thwin of the season before 79th minute substitute defender Martina Toniolo equalised for Napoli seven minutes after coming on.
AC Milan remain third on the log with 33 points after their latest draw whilst Napoli, on 15 points, climbed one place from 10th to ninth.
A solitary strike by defender Giorgia Tudisco was enough for ASD Pomigliano to beat Inter Milan in a mid-table clash away in Milan on Sunday.
The 27-year-old struck home 12 minutes from half-time to hand the Naples side a 1-0 victory which is their sixth of the season while handing Inter Milan their second defeat in a row.
Inter remain on fifth position after their fifth defeat of the season and are on 29 points, 12 points away from Juventus, whilst Pomigliano remain seventh on 19 points.
Two goals from Florin Wagner and Melania Martinovic were enough for Sampdoria to hand Fiorentina a 2-0 defeat at home and plunge them into relegation zone on Saturday.
Wagner opened the scoring with a strike on 36 minutes before Martinovic sealed the victory with a strike four minutes later.
The defeat was 15-point Fiorentina's ninth of the season and it saw them slip from eighth position to tenth on the standings behind Napoli and Empoli whilst Sampdoria, on 25 points, remain sixth despite recording their eighth win of the season.
Hellas Verona succumbed to their 15th defeat of the season with a 1-0 loss to Empoli at home on Saturday.
A 73rd minute strike by 21-year-old Dutch forward Chanté-Mary Dompig was enough to hand the visitors their fifth three points to reach 18 and climb one place from eighth position to seventh whilst the hosts remain 12th with one point from one draw.
RESULTS (Saturday): Sampdoria 2 – 0 Fiorentina; Hellas Verona 0 – 1 Empoli; Juventus 1 – 1 AS Roma
RESULTS (Sunday): Lazio 3 – 1 Sassuolo; Inter Milan 0 – 1 Pomigliano; AC Milan 1 – 1 Napoli