Juventus vs. AS Roma: Preview
Juventus face AS Roma one week after their record of always winning their first two matches of the season was broken by Inter Milan over the weekend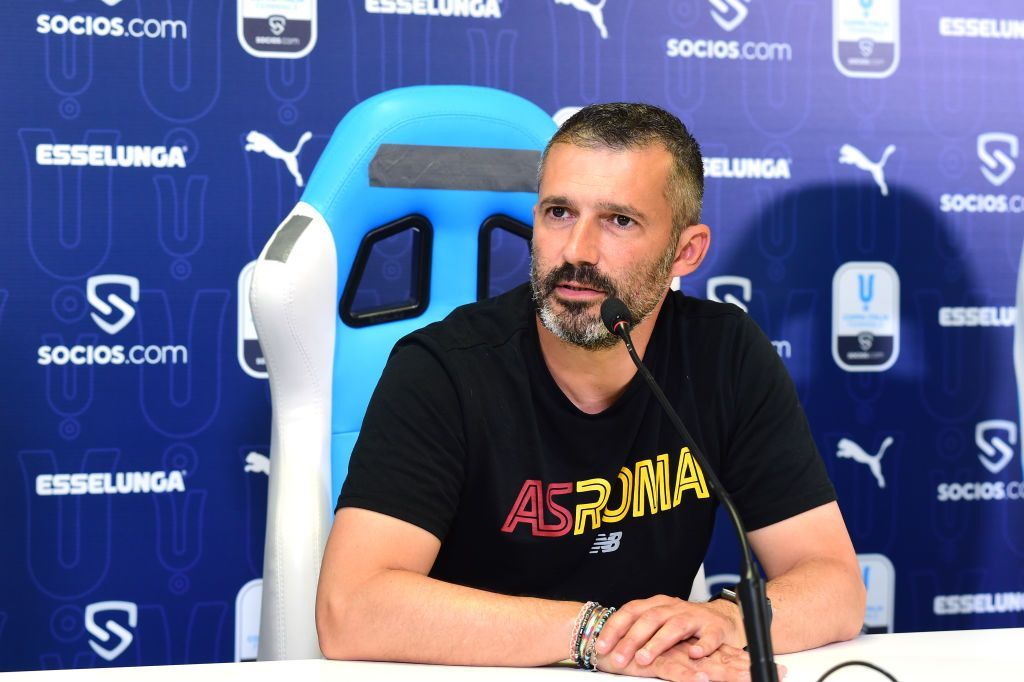 Reigning champions Juventus face an acid test when they host AS Roma at the Juventus Centre on Friday afternoon in the third week of the Serie A Femminile 2022/23 season.
Last season's runners-up Roma, who sit at the summit of the current standings on six points, will be looking for their third straight win after beating AC Milan 2-0 last weekend whilst fourth place Juventus will be looking to rebound from a disappointing three-all draw in the derby d'Italia against Inter Milan last weekend.
"It's a Vinovo taboo. The important thing is to have a great contest and continue with the positive streak"
— Alessandro Spugna
The match has been brought forward by one day in order to allow both teams adequate preparation for the UEFA Women's Champions League (UWCL) next week.
Roma coach, Alessandro Spugna, has said that his troops are raring to break the 'Vinovo taboo'. The Vinovo taboo refers to the statistic that Roma have never won at Juventus home ground, the Juventus Training Centre Vinovo, in five years.
"It's a Vinovo taboo. The important thing is to have a great contest and continue with the positive streak. They (Juventus) are the team to beat, even if we are two points ahead. They have dominated the Italian scene for five years," Spugna is quoted by the Italian media as saying.
"Every match will be fundamental. The level of the championship has risen a lot and there are many teams that are doing well, many important players have arrived, each match will have to be prepared well to be able to compete at a high level".
Le Giallorosse brought in new faces in the summer which have transformed them into menacing title contenders. They acquired the services of defender Cara Wenninger, who came on a season long loan from Bayern Munich, defenders Elin Landström and Moeka Minami, forward Valentina Giacinti from AC Milan, and goalkeeper Stephanie Ohrstrom from relegated Lazio.
Juventus, on the other hand, have brought in midfielder Sara Björk Gunnarsdóttir from Lyon, forward Lineth Beerensteyn from Bayern Munich, defender Evelina Duljan, and Sofia Cantore who was on loan at Sassuolo.
Juventus had always won on the first two days of the season and the record was broken by Inter Milan last week with the 3-3 draw. AS Roma, on the other hand, have not conceded any goals in their last four matches, which is also a record.
Spugna's side have won seven of their last eight away games in the Serie A.
Juventus, who have scored in every match against Roma, will have a psychological advantage going into this match having won nine of the 11 matches which they have played against their opponents in all competitions. The Bianconere have scored 25 goals against Roma in total, which is an average of 2.3 goals per game.
Juventus are also the team which has scored the most goals in the Serie A against Roma. They have scored 17 goals, which is an average of 2.4 goals per match.
Juventus have a defence crisis and will be without defenders Sara Gama, Linda Sembrant, Martina Lenzini and Cecilia Salvai due to injuries and suspensions.
The hosts will turn to the services of Cristiana Girelli who is this season's current top scorer with four goals. Girelli, however, has not scored in the last 270 minutes played against Roma in the Serie A, which is three matches without finding the back of the net.
The Turin side will also pin their hopes on former Bayern Munich forward and Netherlands international Lineth Beerensteyn who could become the second player in Juventus history, after Girelli, to find the goal in all the first three games played by the Bianconere in a Serie A campaign.
The visitors will pin their hopes on the in-form former AC Milan striker Valentina Giacinti who has scored in both their matches this season.
Click on the match below to follow it Live! on forzafootball.com.
Juventus vs. AS Roma (14:30 CET)