Lyon, PSG seek cathartic weekend after European heartbreaks: D1 Arkema Week 18 Preview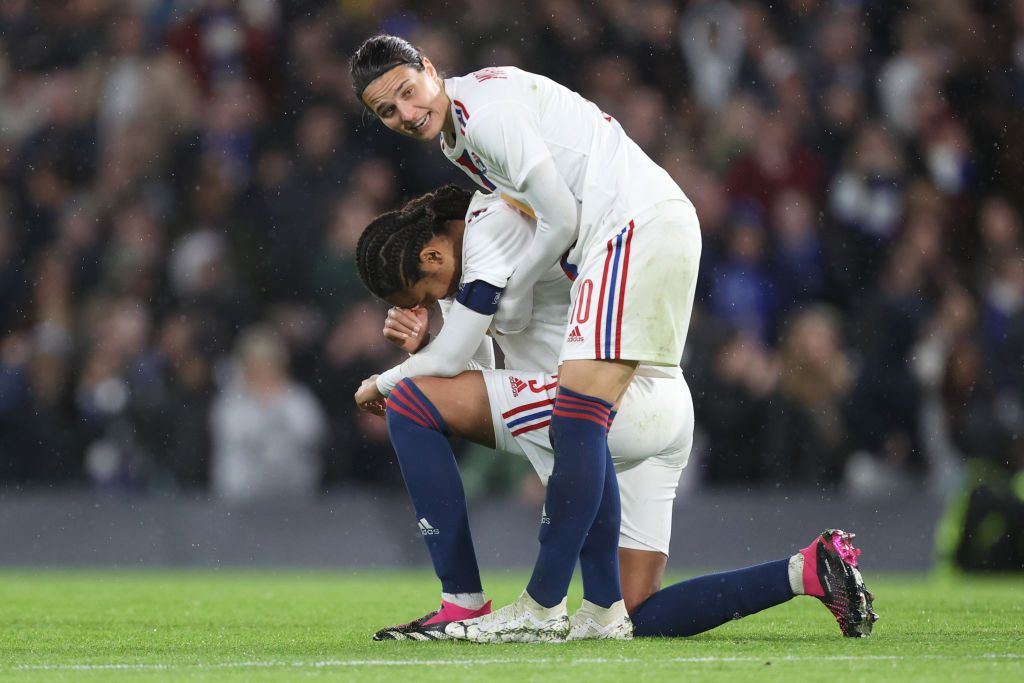 Lyon will be hoping to continue their quest for a domestic double when they visit Stade Océane for a date against Le Havre on Sunday.
Fresh from a heartbreaking European night on which they succumbed to a 4-3 penalty shoot-out defeat at the hands of Chelsea to exit the UEFA Women's Champions League (UWCL) at the quarter-final stage, Lyon will be aiming for a quick recovery.
Having won all three of the previous matches against Le Havre, Lyon will be eager to continue their dominance over their weekend opponents.
Last week's star of the show Signe Bruun, who bagged a brace in the first 30 minutes will be out to repay the faith shown in her by Sonia Bompastor after a difficult loan spell at Manchester United last-year.
Meanwhile, Paris Saint-Germain have all to fight for when they host eighth-placed Bordeaux on Sunday.
Having exited the UWCL on Thursday after a 2-1 aggregate loss to German side VfL Wolfsburg, Les Parisans will be chomping at the bit to quickly return to winning ways as they look to end the season on a high.
The side from the capital go into the match having won 10, drawn two and lost none against Bordeaux.
With top markswoman Kadidiatou Diani out through suspension after being shown a straight red-card in PSG's match against Montpellier last weekend, coach Gérard Prêcheur will look to shift players upfront to offset the gap created by Diani's absence.
Ramona Bachmann, who has chipped in with six goals this season, will be relied upon to provide the goals. Bachmann's solitary 40th minute strike secured all the three points on Sunday. She also laid through the ball for Diani to score in their 1-1 draw against Wolfsburg in the UWCL on Thursday.
On the other hand, Bordeaux will be hoping for a return to winning ways having gone winless in their last five matches across all competitions.
Striker Maelle Garbino will be aiming to add to the eight goals scored so far this season.
Third-placed Paris FC welcome ninth-ranked Guingamp on Friday evening, having been made to run the hard yards in a goalless draw away to Bordeaux last-weekend.
The side from the capital will be aiming to inflict more misery on Guingamp as they go into the match enjoying an impressive five wins and three draws in the last 10 matches against the visitors.
Having scored nine goals and conceded three in the last three encounters, Paris FC will be banking on the frontline trio of Mathilde Bourdieu, Clara Matéo and Gaëtane Thiney who have an impressive 24 goals among them so far this season. Bourdieu (10) ranks second to PSG's Kadidiatou Diani (17) in the division for most goals scored.
Guingamp, on the other hand, will be looking to secure their position away from relegation by giving their much-fancied opponents a difficult match in-front of their supporters. Having shipped in six goals with no response against title-chasing Olympique Lyonnais last weekend, Guingamp will be out for some damage control against a side looking to secure European football next season.
Fleury host 10th placed Dijon at Stade Lascombes looking to end a three-match winless streak which has seen them lose twice to Lyon and drawn once to Le Havre.
Leading goal-getter Rosemonde Kouassi, who has scored nine times in 1155 minutes, will be looking to continue scoring with both eyes firmly fixed on helping her team finish the campaign as strong as they possibly can.
With odds evenly poised at three wins apiece and two draws, the hosts will be aiming to gain ground in the series.
On the other hand, Dijon will be looking for a positive result as the battle to steer clear of relegation hots up.
Having last tasted victory on 21st January when they beat fellow strugglers Guingamp 1-0, the latest fixture presents yet another test of character to the Sébastien Joseph coached outfit.
Montpellier make a trip to rock-bottom Soyaux Charente, fresh from a pinch-in-the-heart 1-0 defeat to second-placed PSG.
With the influential Lisa Schmdt missing in action having been shown a red-card for an 87th brawl with PSG's Kadidiatou Diani last-week, Yannick Chandioux will be seen having to send second-choice goalkeeper Romane Salvador to guard goal.
Having won seven and drawn two in their last 10 fixtures, the visitors will aim to bounce back to winning ways against the league's punching bag.
Strikers Nérilia Mondésir, Faustine Robert and Celeste Boureille, who have 11 goals among them in the league this season, will be out to increase their tally this season. Having struggled for victories since February 3 when they beat Bordeaux, the aim will be to bounce back strongly against the side anchoring the log.
It will be a continuation of the search for league wins for the bottom-placed Soyaux Charente, a feat they last achieved on September 22, 2022 when they beat Rodez 2-0. A difficult task of Himalayan proportions lies down the road for Charente.
Mid-table occupants Reims travel to Stade Paul Lignon for a date against 11th placed Rodez Alveron looking to build on their victory over Charente last weekend.
With only one match having been played between the two sides and the match ending in a share of the points, it is a fight to gain ground in the series for the seasoned campaigners.
The striking trio of Kessya Bussy, Melchie Dumornay and Rachel Corboz – with the latter having ended a barren spell with a 36th minute strike last-week, will be looking to add to their seven, six and three goals respectively.
On the other hand, Rodez, caught in a dearth of consistency in the league, will aim to pull another shocker like the one that they authored in beating Dijon last weekend. This fight for survival features right at the top of the menu.
Click on a match below to follow it Live! on forzafootball.com and on the Forza Football App
Fixtures (Friday): Rodez vs Reims (18:30); Paris FC vs Guingamp (21:00)
Fixtures(Saturday): Fleury vs Dijon (13:45); Soyaux-Charente vs Montpellier (13:45)
Fixtures(Sunday): PSG vs Bordeaux (12:45);  Lyon vs Le Havre (12:45)
All times are Central European Time (CET)