Milan in historic win, Inter held, Roma shoot to crest: Serie A Femminile Week 7 Round Up
• Juventus seven match winning streak against AC Milan in the Serie A came to an end in a dramatic seven-goal thriller in Milan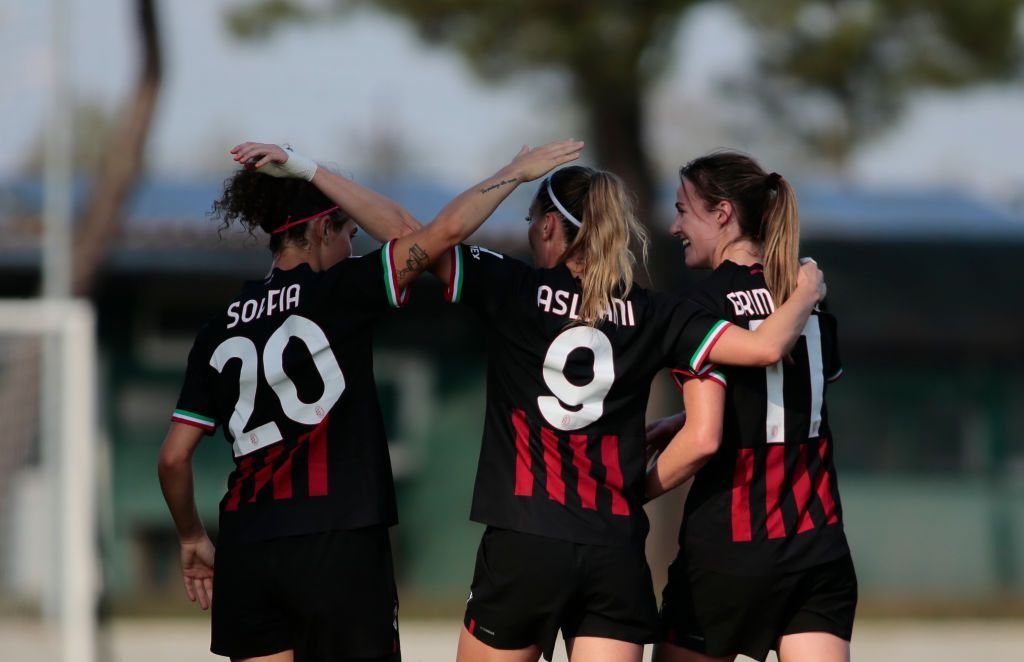 • The Bianconere were unbeaten by AC Milan in 11 matches across all competitions with the Turin side having won nine and drawn two. Milan had last beat Juventus in February 2019
• Juventus conceded three first half goals for the first time in the Serie A
Maurizio Ganz finally broke the Bianconere jinx with a historic 4-3 win over the defending champions at home on Saturday as the Rossonere mounted a suitable response to their humiliating 4-0 derby defeat to Inter the previous weekend.
Juventus coach Joe Montemurro made seven changes to the team which won 2-0 over FC Zürich Frauen in the UEFA Women's Champions League (UWCL) last Wednesday bringing on Roberta Aprile, Sara Gama, Martilde Lundorf, Martina Rosucci, Agnese Bonfantini, Arianna Caruso and Sofia Cantore for Pauline Peyraud-Magnin, Lisa Boattin, Cecilia Salvai, Martina Lenzini, Julia Grosso, Sara Björk Gunnarsdóttir and Cristiana Girelli.
Ganz, on the other hand, made a single change to the team that lost 4-0 to Inter in the Milan derby the previous weekend, bringing on forward Martina Piemonte for forward Lindsey Thomas.
Former Real Madrid striker Kosovare Asllani opened the account for Milan with a strike on 24 minutes having received a pass from fellow forward Martina Piemonte before she completed her brace just a minute later making it 2-0 for the home team.
The brace took Asllani's season's goal tally to six and is now joint-second top scorer in the current Serie A term alongside Inter's Tabitha Chawinga.
"We didn't play at our level, we made too many mistakes and Milan deserved it" – Joe Montemurro
Bonfantini pulled one back for Juventus with a strike on 31 minutes before Piemonte restored Milan's two goal cushion just one minute later making it 3-1 with an assist from defender Angelica Soffia as Juventus conceded three first half goals for the first time in the Serie A.
Montemurro brought on Boattin and Evelina Duljan for Lundorf and Valentina Cernoia respectively in the 57th minute before Ganz responded by bringing on Sara Thrige for Soffia two minutes later.
It is Milan who got dividends first with Polish defender Małgorzata Mesjasz making it 4-1 with a strike on 62 minutes as Piemonte registered her second assist of the day.
Piemonte is now Milan's top assist raker with three.
Juventus made a double substitution bringing on Julia Grosso and Gunnarsdóttir for Caruso and Rosucci on 63 minutes before bringing on Girelli for Cantore two minutes later.
Girelli made an immediate impact finding the back of the net just five minutes after coming on to reduce the deficit to two goals.
Milan made two more changes bringing on Thomas for Asllani and Linda Tucceri Cimini for Piemonte in the 73rd minute and 84th minute respectively.
Juventus, however, went on to score with Girelli completing her brace to make it 4-3 when she struck in the fifth minute of second half extra-time with an assist from Gunnarsdóttir.
The brace saw Girelli's goal tally rise to seven as she reclaimed her spot at top of the Serie A goal charts.
Montemurro, whose side play Lyon in the UWCL midweek, after the match lamented his team's performance saying his team did not play at their level and that they did not deserve the win.
"We didn't play at our level, we made too many mistakes and Milan deserved it. Now we will study Lyon, prepare for the match and make sure we are mentally ready. Now we will see what team we are. Let us see how the squad reacts to this defeat.
"Girelli and Bonansea? I chose not to let Cristiana play from the first minute, a tactical choice linked both to mental freshness and to the management of a player who is coming back from injury and who played 80 minutes a few days ago; and on Thursday we have a very important game. Barbara was honest, she told me that she would not be able to give 100% and we decided to give her some rest so that she is ready for Thursday", Montemurro told the Italian media.
Juventus are still fourth on the standings on 14 points from four wins and two draws in seven matches whilst Milan remain fifth despite coming to within two points of Juventus from four wins and three draws in the same number of matches.
Elsewhere, Inter slipped from the apex of the Serie A log after being held to a 1-1 draw by Sassuolo away on Sunday.
Sassuolo opened the scoring through 58th substitute midfielder Martina Tomaselli who found the back of the net just three minutes after coming on with an assist from midfielder Giada Pondini.
Sassuolo appeared set to collect their first full set of points before Malawian forward Tabitha Chawinga pounced on a pass from forward Gloria Marinelli and equalized for Inter in second half extra-time to rescue a point for Rita Guarino's side.
Chawinga is now joint-third top scorer in the current Serie A term with six goals.
Inter are now third on the standings on 17 points from five wins and two draws in seven matches whilst Sassuolo, still hunting for an evasive first win of the term, remain at the bottom of the log on two points from two draws in the same number of matches.
A 72nd minute Valentina Giacinti strike was enough for AS Roma to beat Serie A novices Como to secure their sixth win of the term and shoot to the crest of the Serie A standings.
The match had appeared set to end in a stalemate before the 56th minute substitute forward pounced on a cross from forward Benedetta Glionna and slotted home on a difficult Sunday afternoon for Le Giallorose at home.
The goal took Giacinti's tally of the season to five.
Roma are on 18 points from six wins in seven encounters whilst Como remain seventh on four points from one win and one draw in the same number of games.
Goals from Verónica Boquete and Milica Mijatović saw Fiorentina come from a goal down to win 2-1 over Sampdoria at home.
Sampdoria took the lead through forward Odette Kelly Gago as early as the 14th minute and the visitors took the lead into the break.
Sampdoria appeared set to hand Fiorentina their second defeat of the term and ruin their great start to a season which then comprised of five wins and one loss in six matches before Boquete found the back of the net for the home team on 71 minutes to make it 1-1 with an assist from Hungarian striker Zsanett Kaján.
Mijatović doubled Fiorentina's lead with a strike just one minute later being on the receiving end of a Boquete pass as Viola completed an unlikely comeback to secure a sixth full set of points.
The win saw 18-point Fiorentina rise to second on the standings, one place below Roma on goal difference whilst Sampdoria remain sixth on nine points from three wins in seven matches.
Goals from Taty, Katarzyna Konat and Ana Lucía Martínez were enough for Pomigliano to secure their first win of the term with a 3-1 win away to newcomers Parma on Saturday.
Pomigliano opened the scoring through Taty on 19 minutes with an assist from midfielder Zhana Ferrario and the visitors took the lead into the break.
Konat made it 2-0 with a strike on 58 minutes with an assist from defender Angela Passeri before forward Melania Martinovic pulled one back for the hosts with a strike on 70 minutes after pouncing on a pass from defender-cum-midfielder Arianna Acuti.
Martínez made it 3-1 for the visitors with a strike five minutes from time with an assist from Virginia Di Giammarino.
Pomigliano are eighth on the standings on four points from one win and a draw in seven encounters whilst Parma are ninth on three points from one win in the same number of outings.
RESULTS: Saturday 22 October, 2022 (Parma 1 – 3 A.S.D Pomigliano)
RESULTS: Saturday 22 October, 2022 (AC Milan 4 – 3 Juventus)
RESULTS: Sunday 23 October, 2022 (AS Roma 1 – 0 Como)
RESULTS: Sunday 23 October, 2022 (Fiorentina 2 – 0 Sampdoria)
RESULTS: Sunday 23 October, 2022 (US Sassuolo 1 – 1 Internazionale)