Forza Football and Blankspot hand out physical Cards of Qatar in the Swedish stores of Pressbyrån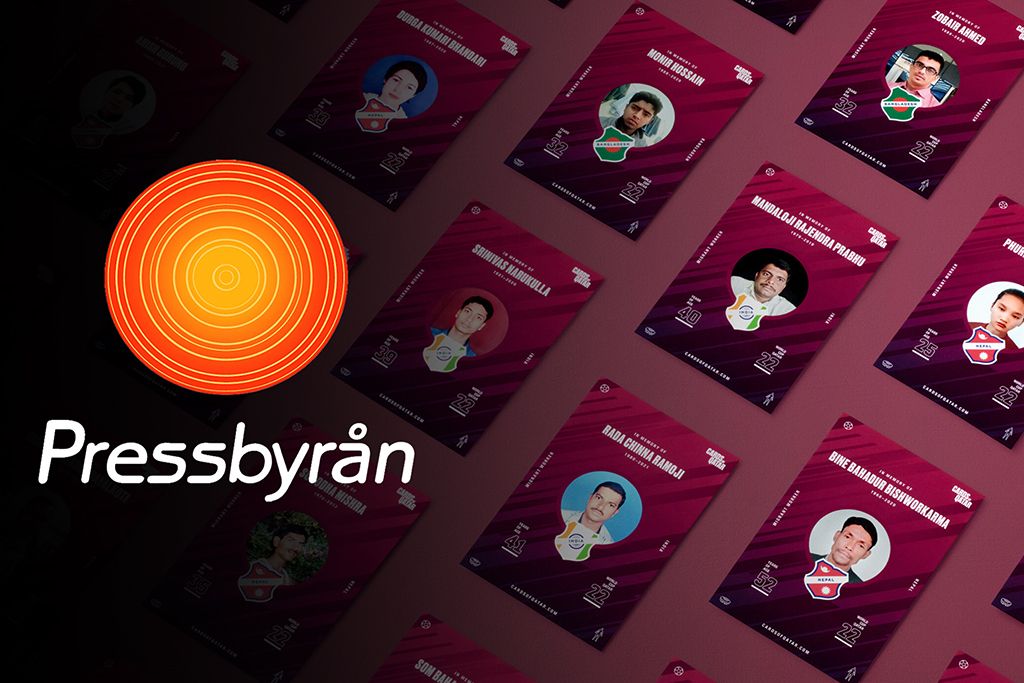 From today football fans in Sweden will find Cards of Qatar in selected Pressbyrån stores all over Sweden. They will be found in stores where the official Panini collectors cards for the World Cup are being distributed. Cards of Qatar resemble authentic football collectors cards, but a closer look at them reveals the unique stories of migrant workers that have died in Qatar and have previously only been found digitally.
The Journalistic concept Cards of Qatar have been nominated for the Swedish grand prize for journalism and also won the prize Tidskriftspriset 2022. It was created by the journalistic platform Blankspot in cooperation with Forza Football. The journalistic work that was conducted during two years in Bangladesh, Nepal and Pakistan resulted in the previously only digital Cards of Qatar and are now handed out as physical cards in a pack of 12 cards.
Forza Football has followed the development of Qatar as host of the World Cup for a long time. Already before the FIFA elections in 2015 Forza Football, together with Transparency International, showed how strong the opposition was among fans against Qatar being host of the World Cup. Forza Football has since then continued to highlight violations against human rights in Qatar and encouraged the hosting of the World Cup to be moved to another country.
Three years ago we met Blankspot and realized we could work together on these topics. They wanted to highlight the migrant workers problem and we wanted to inform the fans and share their opinions on the problematic issues surrounding the upcoming World Cup.
– Forza Football wants to make the world of football a better place and available for everyone. To showcase the migrant workers situation in Qatar to all the football fans we reach through our app and our social media is one, of many ways, to do that. If we give the fans an insight into the situation we also give them an opportunity to take a stand. Making demands for democracy, respect for human rights and inclusion should be a matter of course in all football, says Jonas Linné, CEO of Forza Football.
– These people are not just numbers. Their stories need to be told. We want to go beyond the debate on numbers and tell the stories of those who have died. Together with a team of local journalists in India, Nepal and Bangladesh, we started to gather stories last year on migrant workers from the surviving families and widows, says Martin Shibbye, editor in chief and co-founder of the journalistic site Blankspot, founded in 2015.
The cards will be available in selected stores of Pressbyrån in Sweden thanks to a cooperation between Forza Football, Blankspot, Pressbyrån and Byggnads. They are available from week 46 and will be handed out for free in a limited edition.
Contact:
Jonas Linné, CEO Forza Football, jonas@forzafootball.com, 073-511 70 26
Brit Stakston, co-founder Blankspot, 073-383 33 66