Serie A Femminile Week 11 Preview: Juventus face wounded Milan as Roma host Lazio in 'Derby della Capitale'
The Serie A champions will be looking to keep their 100% record when they face AC Milan in final match before the festive break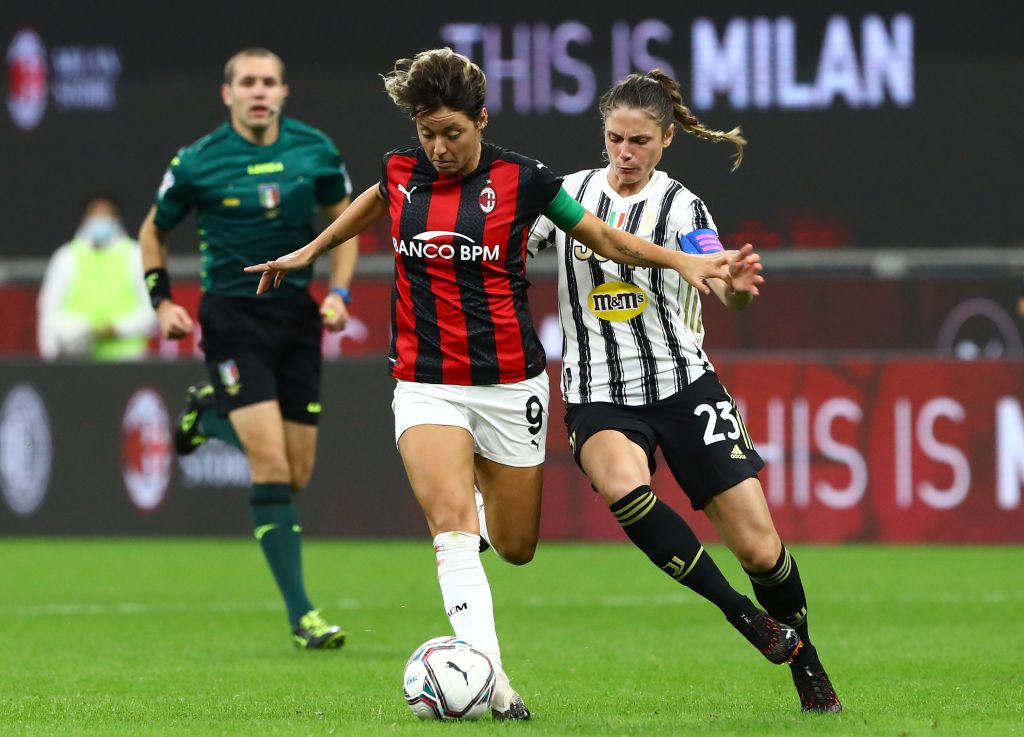 Reigning champions Juventus will be hoping to extend their lead on top of the Serie A Femminile log when they host AC Milan in Turin on Sunday.
Joe Montemurro's side are coming from a crucial 2-0 win over second-placed Sassuolo last Saturday and will be looking to draw inspiration from the result which sent them six points clear on top of the log. The Turin side will also be in high spirits after holding English champions and last year's UEFA Women's Champions League finalists Chelsea to a nil-all draw in the Champions League away at Wheatsheaf Park in England on Wednesday.
AC Milan, on the other hand, will be looking to bounce back from a devastating 3-0 derby defeat to Inter Milan at home last Sunday.
The Bianconere have amassed 30 points from a 100% winning streak whereas the fourth-placed Rossonere have gathered 22 points from seven wins and one draw in 10 outings.
The visitors are relishing the opportunity to go second on the log should Sassuolo and Roma lose Inter Milan and Lazio respectively.
Juventus top scorer Cristiana Girelli, who scored a brace against Sassuolo last weekend, may be a doubt for the fixture having suffered a knee injury during the Chelsea clash on Wednesday and having appeared to have been pulled off later in the match.
Milan will turn to the services of current Serie A joint-top scorer Valentina Giacinti who has registered seven goals in 10 matches, while the hosts will turn to forwards Barbara Bonansea and Lina Hurtig who have occasionally scored for the defending champions.
Elsewhere, AS Roma will be looking to keep pressure on second placed-Sassuolo when they host Lazio in Derby Della Capitale on Sunday, as the quest for champions league football continues.
Roma are coming from their fourth win on the bounce, a 2-1 defeat of Sampdoria away which took them to third place on the log, while Lazio recorded their first three points of the season with a 1-0 win over Hellas Verona at home on Saturday which took them from 12th place to 11th.
Fifth-placed Inter Milan host second-placed Sassuolo at the Felice Chinetti Stadium on Saturday.
Inter will be in high spirits heading into the clash coming from a 3-0 derby win over AC Milan away on Sunday while Sassuolo will be looking to bounce back from a disappointing 2-0 defeat to champions Juventus.
Inter will be relishing the prospects of going third from fifth on the log with a win at home should AC Milan and Roma lose to Juventus and Lazio respectively.
Inter forward Ajara Njoya and midfielder Ghoutia Karchouni will be looking forward to replicating their antics of last weekend while Sassuolo will turn to the services of on-loan Juventus forward Sofia Cantore who is the current campaign's second top scorer with six goals.
Seventh-placed Fiorentina travel to eighth-placed Empoli on Sunday.
Fiorentina, who registered their first win in four matches with a 3-1 win over Pomigliano last Saturday, will be looking to draw confidence from the result, while Empoli, who staggered to their third win of the season with a 1-0 over Napoli last Sunday, will be seeking to build from the result.
Sampdoria will be looking to bounce back from a 2-1 defeat to Roma when they travel to Hellas Verona on Saturday.
Sixth-placed Sampdoria have registered 13 points from four wins and one draw in 10 matches, while bottom-placed Hellas Verona have recorded one point from one draw from the same number of outings.
Ninth-placed Pomigliano host 10th placed Napoli on Saturday.
Pomigliano will be looking to rebound from their sixth defeat of the season, a 3-1 loss to Fiorentina last Saturday while will be looking to bounce back from the seventh loss of the season, a 1-0 defeat to Empoli last Sunday.
Fixtures: (Saturday) Pomigliano vs Napoli (12:30); Hellas Verona vs Sampdoria (14:00); Inter Milan vs Sassuolo (14:30)
Fixtures (Sunday) Roma vs Lazio (12:30); Empoli vs Fiorentina (14:30); Juventus vs Milan (15:00)
All times Central European Time (CET)
(Photo by Marco Luzzani/Getty Images)