Serie A Femminile Week 13 Preview: Juventus in tricky test as Roma and Sassuolo look to close gap
Juventus' streak of consecutive victories in Serie A extended to 36 with their latest win, a record since the 2004/05 season.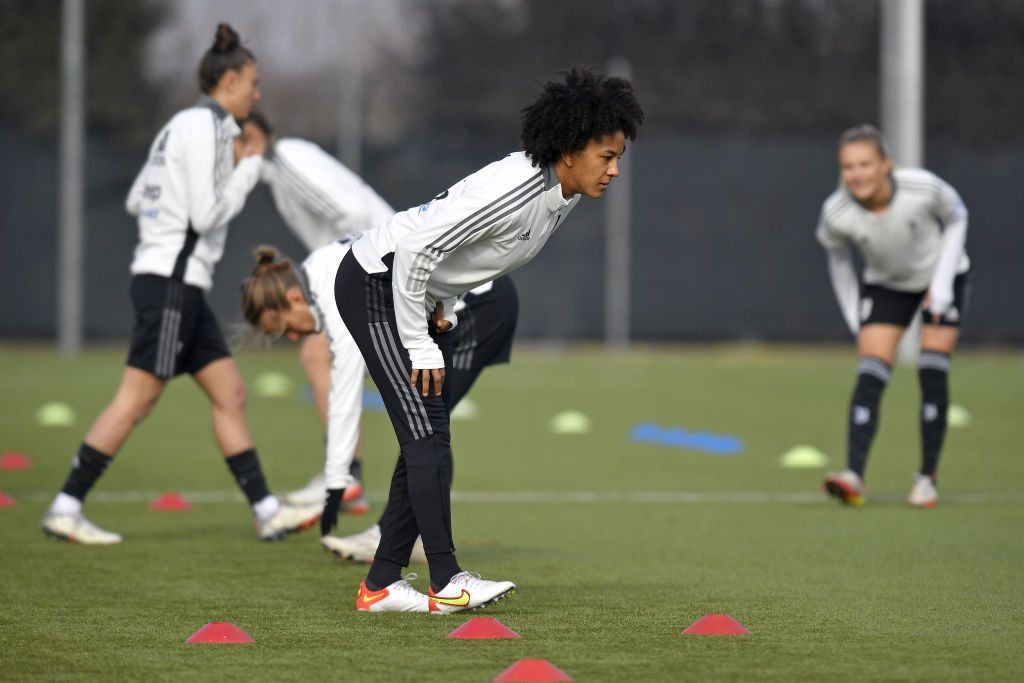 Champions Juventus face a tricky test when they host Fiorentina at the Juventus Centre on Saturday.
The Bianconere are buoyed by their 36th consecutive Serie A victory, an emphatic 5-0 over Pomigliano away last Sunday, whilst Fiorentina will be looking to bounce back from a humiliating 6-1 defeat at the hands of Sassuolo last Sunday. The defeat was their seventh of the season.
"We will have to play a different game, especially from a physical point of view, but also from a mental point of view . . ."
The Turin side, who are eight points clear at the summit of the Serie A log, will be looking to stay clear of pressure from US Sassuolo and AS Roma, who have shown considerable consistency this season and sit second and third respectively on the log.
Fiorentina coach Patrizia Panico spoke on the Juventus match following their defeat to Sassuolo, saying that Juventus were of another class and that they were expecting a tough match.
"With Juventus it will be a very difficult game, because like Sassuolo, they are now high-level teams from a different class. We will have to play a different game, especially from a physical point of view, but also from a mental point of view . . .", Panico told the Italian media.
Juventus will still be without star forward Cristiana Girelli who is on her vaccination cycle against Covid-19. The 31-year-old will return for their trip to Hellas Verona next weekend.
Fiorentina will turn to the services of forward Daniela Sabatino, who tops the current Serie A scoring charts with nine goals, and former AC Milan captain Valentina Giacinti, who is joint-third top scorer with seven goals.
Elesewhere, second-placed Sassuolo host bottom-placed Hellas Verona at Mapei Stadium on Saturday.
The hosts, who will have huge doses of morale coming from the 6-1 drubbing of Fiorentina away in Florence last Sunday, will be looking to keep pace with Juventus with a win over lowly Verona.
Sassuolo returned to second place on the log on goal difference following the win.
They have amassed 28 points from nine wins and one draw in 12 matches whilst Verona, reeling from a 6-0 demolition by AC Milan last weekend, have managed just a point from one draw in the same number of matches.
Sassuolo will turn to the services of Scottish forward Lana Clelland, who scored four goals in their 6-1 demolition of Fiorentina last weekend. The 28-year-old is this campaign's second top scorer with eight goals.
Verona will also be on the watch-out for Sassuolo forward Sofia Cantore, on loan from Juventus, who is joint-third top scorer with seven goals.
Third-placed Roma visit 10th placed Napoli on Sunday.
Le Giallorosse, who are below second-placed Sassuolo on goal difference, will be looking to build on their 2-1 home win over Empoli last Saturday.
Alexander Spugna's side are genuine title contenders this season, having shown greater determination in registering nine wins in 12 matches, three wins less than Juventus, as compared to last season, when they registered just 10 wins in a season of 22 matches.
Napoli, on the other hand, coming from a one-all draw with Inter Milan away, have struggled this season, recording eight defeats in 12 matches and are in danger of being relegated.
Fourth-placed AC Milan entertain sixth-placed Sampdoria in a tricky fixture at the Centro Sportivo Peppino Vismara in Milan on Sunday.
The hosts will be buoyed by their 6-0 drubbing of Hellas Verona away last Saturday whilst the visitors will also look to draw inspiration from their 2-1 home win over Lazio last Saturday.
Sampdoria have had an almost equal share of wins and losses this season, registering six wins and fives losses in 12 matches, making them unpredictable for a Milan side seeking to build pressure in the title contention.
Milan, on 25 points, are relishing the prospects of going equal on points with both Sassuolo and Roma with a win over Sampdoria.
Fifth-placed Inter Milan travel to the capital for a date with 11th placed Lazio on Sunday.
The visitors are coming from a disappointing one-all draw with Napoli last Sunday whilst the hosts are coming from a 2-1 defeat to Sampdoria last Saturday.
Inter, on 23 points, head into the clash with the prospects of going above AC Milan on the log with a win over the Rome side.
Ninth-placed Empoli entertain eighth-placed Pomigliano at the Centro Sportivo Monteboro on Saturday.
Empoli are coming from a 2-1 defeat to Roma away last Saturday whilst Pomigliano are coming from a 5-0 thumping by Juventus at home last Saturday.
A win for Empoli, who must avoid relegation, will potentially take them to seventh, above their opponents Pomigliano and above Fiorentina, who have a difficult date with Juventus.
FIXTURES (Saturday):Sassuolo vs Hellas Verona (12:30hrs); Empoli vs. Pomigliano (14:30hrs); Juventis vs. Fiorentina (14:30hrs)
(Sunday): Napoli CF vs. AS Roma (12:30hrs); AC Milan vs. Sampdoria (14:30hrs); Lazio vs. Inter Milan (14:30hrs)
All times are Central European Time (CET)
(Photo by Filippo Alfero - Juventus FC/Juventus FC via Getty Images )